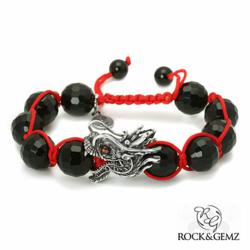 It all started with a piece of paper, a pencil and image in my mind to create art in the form of beautiful unique jewelry, says Allen Cemcem. "Not only do I love what I do, I live it in each piece I design
Los Angeles, CA (PRWEB) September 20, 2011
King Ice, a leading internet retailer of men's jewelry, is now offering a new collection by Rock & Gemz, a Los Angeles based designer of fine and silver boutique jewelry for men and women. Created by designer Allen Cemcem, the Rock & Gemz collection offers an artistic array of bracelets, necklaces and rings inspired and influenced by a fusion of hip hop, punk rock and tattoo culture. The Rock & Gemz collection offers high end intricately detailed pieces featuring a variety of themes and symbols including skulls, dragons, crosses and snakes, mixing colored stones with natural gems culminating in the edgy style that is the soul of Rock & Gemz.
Designer Allen Cemcem grew up in the jewelry industry, having spent his last 20 years working along side his father as he developed his own vision of turning jewelry into art. Rock & Gemz was inspired by his experience traveling the world, encountering various cultures and differing expressions of fashion and design. "It all started with a piece of paper, a pencil and image in my mind to create art in the form of beautiful unique jewelry," says Allen Cemcem. "Not only do I love what I do, I live it in each piece I design."
Each piece produced by Rock & Gemz is carefully scrutinized to meet the highest standard of jewelry craftsmanship. Mostly made in Los Angeles with some pieces being produced in Bali, each piece requires skilled jewelry making to surpass the expectations of high end customers. Every stone is hand set while intricate pieces like Shamballa bracelets are hand strung and feature symmetrical braids reflecting heavy workmanship. Many of the pieces feature sterling silver, darkened through oxidation, offering a vintage styling adding more character to art.
"Our customers are embracing the Rock & Gemz collection, as they experience the bling styled edgy designs and high quality of the pieces. With higher quality and more affordable prices, Rock & Gemz stands above the rest," says Cuong Diep of King Ice.
Everything at King Ice comes with a 90-day warranty. The Rock & Gemz collection along with a variety of men's hip hop jewelry is available on KingIce.com. For more information, call 1-877-KING-ICE or visit KingIce.com.
About King Ice:
The staff at King Ice is constantly offering new men's jewelry products based on the latest fashion trends. King Ice is focused on providing valued customers with quality merchandise, great customer service and fast shipping with a generous warranty.
###