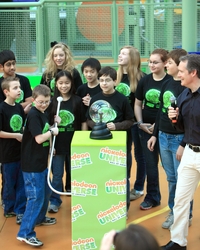 Being smart isn't cool?
Arlington, TX (Vocus) April 7, 2010
Who says, "Being smart isn't cool?" Well, on March 20, 2010, 16 members of American Mensa® proved that statement to be false as they became the first to ride the Nickelodeon Universe's® new ride, BrainSurge® at the Mall of America®. The ride is named after the Nickelodeon® game show BrainSurge®; a show that is designed to test the memory and comprehension of its contestants. So, who better to open this ride than Young Mensans, whose IQ's rank within the top two percent of the general population?
To commemorate the new attraction, 10-year-old Mensan, Anthony Heath, pulled the grand opening lever, releasing green confetti from above. BrainSurge is the first ride of its kind in the world, going 35 mph and allowing riders to control the spinning of their own car as the ride takes them around a surging track. Robert Moots and his son, 13-year-old Eric, were very pleased with the whole experience. "Eric spent the whole day at the mall and he loved every minute of it," said Moots. "We were fortunate to see some to the other kids at breakfast and everyone shared how much fun they had."
"This experiences exemplifies what American Mensa is all about; allowing our young members the opportunity to network with other gifted youth and participate in activities where they can learn and have a fun experience," said Pamela Donahoo, CAE, Executive Director of American Mensa. "Because of their Mensa membership, they were able to participate in this memorable experience and partake in a historic moment. It's proof that being the "smart kid" does pay off!"
American Mensa has more than 2600 members under the age of 18 and has more than 140 Special Interest Groups (SIGs) devoted to topics such as astronomy, literature and games. There is also a national SIG for teenagers called TeenSIG, which offers teens from across the country a network where they can connect with like-minded individuals. Gifted youth, their parents and teachers can find out more about gifted youth and Mensa by logging on to http://www.mensaforkids.org.
American Mensa is an organization open to anyone who scores in the top two percent on an accepted, standardized intelligence test. The organization has more than 57,000 members in the United States and more than 110,000 members around the world. Members of Mensa attend local and national events, join special interest groups such as astronomy and philosophy, and help out in their communities through various projects. Dues are $59 annually. For more information about Mensa, or to apply for membership, visit http://www.us.mensa.org or call (800) 66-MENSA.
# # #