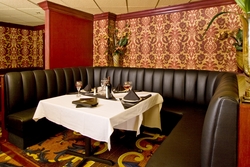 for lists that offer a well-chosen selection of quality producers, along with a thematic match to the menu in both price and style.
Houston, TX (PRWEB) September 5, 2008
Hey guys, there's a new reason - and a new excuse - to visit The Men's Club. The premier gentlemen's entertainment venue has been recognized by Wine Spectator magazine for its outstanding wine selections to accompany its renowned fine-dining experience.
Now you can explain with sincerity to your wife or girlfriend: "Honey, I went to The Men's Club to enjoy the wine!"
The Wine Spectator Restaurant Awards, now in their 27th year, "recognize restaurants that show passion and commitment in their wine programs and whose wine lists offer interesting selections, are appropriate to their cuisine and appeal to a wide range of wine lovers." To qualify for an award, a wine list must meet exacting standards from the most respected wine publication read by more than 2 million epicureans, connoisseurs, collectors and business leaders.
Judges selected fewer than 3,300 wine lists for the magazine's Award of Excellence from among those submitted worldwide. The Men's Club in Charlotte, Dallas and Houston all won this year, and the club is one of only two adult-entertainment venues in the world to be included in this prestigious collection of fine-dining establishments.
"Since opening The Men's Club in 1989, we have worked hard to bring Houston the best of everything in adult entertainment and fine dining. The coveted Wine Spectator Award of Excellence is recognition that we are indeed delivering on that promise and that our customers can expect nothing less than the absolute best when they visit. As we like to say, come for our award-winning wine lists; stay for the fun!" said Lloyd Ace, wine buyer for The Men's Club.
The magazine's Award of Excellence is reserved "for lists that offer a well-chosen selection of quality producers, along with a thematic match to the menu in both price and style."
The Men's Club features a lunch and dinner menu featuring steaks and seafood -- including live Maine lobster - and offers a full menu until 1 a.m. every day. From 2 until 4 a.m., guests can enjoy an all-you-can-eat breakfast buffet.
Wine Spectator noted that the Houston club's list was particularly strong in offering fine French, first-growth Bordeaux and California wines.
"The Men's Club has become increasingly popular among couples and is the ideal spot for entertaining clients," says Ace. "Our club and the entertainment it offers is the kind of adult experience you'd expect in a Las Vegas or even a Paris nightclub. With our upscale space, guests can expect the height of luxury and hospitality."
The Men's Club can accommodate large groups for private parties and is especially well-suited for conventioneers and trade show attendees. It has been featured in Playboy magazine, USA Today, Newsweek and other national publications.
Visit The Men's Club of Houston at 3303 Sage Road. Complete information is available at mensclub.com or 713-629-7900.
About The Men's Club
The Men's Club is one of the premier adult entertainment nightclub operators in North America. It operates or licenses first-class clubs in Dallas, Houston, Charlotte, Raleigh, Guadalajara and Mexico City. Based in Dallas, The Men's Club is known for offering high-quality adult entertainment, fine dining, award-winning wine selections and luxury venues. The clubs have become among the most popular entertainment spots for couples and businessmen in their cities.
# # #