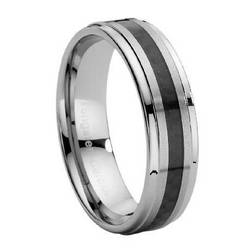 Jensen Beach, FL (PRWEB) October 20, 2010
JustMensRings.com is proud to announce a new "win a ring" contest called "Men Like Shiny Things!" where they will be partnering with CEFashion.net to give away a shiny new Men's Tungsten Ring.
This promotion will be featured on fashion blogger Calculatus Eliminatus: A Men's Fashion Blog, and will also draw attention to the retailer's new Facebook page as the entry point for the contest.
The "Men Like Shiny Things!" tagline was developed by the owners of JustMensRings.com as a follow up to their trademark tagline, "Women aren't the only ones who like things that shine." It encapsulates the excitement among fashion insiders about the latest men's designer rings, fashion rings and alternative wedding bands while generating a "buzz" about the contest itself.
Owners Roy and Judy Devine devote a lot of time working with their customers to help them find the perfect men's rings, and one thing they've learned from their experience is that their male customers really do love shiny things. Having spent many years as a leader in the retail marketing industry, Roy Devine is acutely aware of how consumer trends impact the lives of his customers.
One trend that has been a driving force for the success of JustMensRings.com is the fact that men have embraced the concept of wearing rings as an essential accessory. Men are wearing rings that express their heritage, interests, spirituality and personality, and the selection of metals has grown considerably. Men are no longer limited to gold, silver and platinum. Rings made from tungsten, titanium, palladium and stainless steel have become a popular alternative to traditional metals.
Mr. Devine notes that men have always liked shiny things, such as sports cars and luxury watches, so it should come as no surprise that they have begun to like shiny men's rings as well. The "Men Like Shiny Things!" ring contest is designed to help men realize they are not the only ones who appreciate a fashionable men's ring.
The contest is being promoted on Facebook, and it works by asking fans of the "Just Men's Rings" page to "Like" the status of "Men Like Shiny Things!"
By agreeing that Men Like Shiny Things!, they are automatically entered to win a shiny new comfort-fit Men's Tungsten Ring with a contrasting black carbon fiber inset.
About JustMensRings.com:
An Internet-only retailer, JMR is committed to providing a comfortable, simple and secure online shopping experience. Their customers have come to expect high standards of service, selection and quality when they shop at JustMensRings.com. JustMensRings.com now offers the largest selection of men's fashion rings on the Internet, as well as the largest selection of men's large-sized rings in the U.S. They also lead their competitors with their unparalleled assortment of unique and alternative men's wedding rings.
###