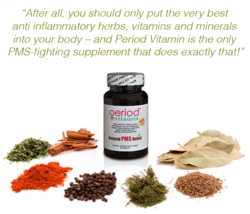 We've ensured that Period Vitamin provides women with the period pain relief they're looking for , as well as the clinically-backed vitamins, minerals, and herbs that have all been shown to promote long-term health
Los Angeles, CA (PRWEB) November 30, 2012
When it comes to dealing with PMS symptoms like bloating, period cramps, mood swings, irritability, and anxiety, most women have their hands full at any other time of year. But dealing with a painful period can be especially stressful during the holiday season – and women need plenty of support to get through the busiest time of the year.
Instead of relying on over-the-counter medications and prescription pills to deal with period cramps, more women are turning to Period Vitamin, a new and natural PMS supplement that contains a unique formula of vitamins, minerals, and herbs. This special formula has been proven to naturally relieve the biggest PMS symptoms as well as support an active and energetic lifestyle.
Translation: only Period Vitamin can naturally ease PMS symptoms while giving women the support they need to make this holiday season the best one yet.
"Period Vitamin isn't just a natural PMS supplement that relieves major period symptoms," says Uka Tumur, co-founder of Period Vitamin. "It's a regular supplement that's been proven to support an active lifestyle by giving women the energy and endurance they need to power through the busiest holiday schedule.
"After all, November and December is jam-packed with holiday events, family get-togethers, and tons of parties," Tumur adds. "Period Vitamin can make it much easier to deal with all of the holiday stress as well as your menstrual cycle."
Period Vitamin was originally designed by two supplement experts who used to struggle with their own painful and pervasive PMS symptoms. After years of research and compiling major university studies, these supplement experts developed Period Vitamin, a natural PMS supplement that promises to offer women the relief they need from painful periods.
Many prestigious universities and research laboratories have celebrated the ingredients that can only be found in Period Vitamin. In one study, researchers from the University of Iowa and Harvard University reported that supplements with high levels of vitamins B1 and B2 could reduce mood swings, anxiety and irritability associated with PMS. These powerful vitamins have even been shown to ease depression, which makes it easier for women to enjoy the festivities of the holiday season.
Further research has revealed that vitamins B1 and B2 can be combined with vitamin D to increase a woman's energy levels. As this potent combination can be found in the natural PMS supplements of Period Vitamin, this means holiday shoppers can get the energy boost they need to deal with crowds and massive lines.
Given this kind of research, it should come as no surprise that Period Vitamin is in demand as the holiday season comes closer. Even more studies are being released that support the ingredients of Period Vitamin as an innovative and natural PMS supplement that should be incorporated into every woman's medicine cabinet.
"The Period Vitamin formula is unique because it encourages an active and healthy lifestyle that's free from period pain," says Tumur. "So whether you need to get through a busy work schedule or just need to power through the holiday sales, Period Vitamin can make it possible for women to do exactly that.
"More women than ever before are looking for ways to simultaneously treat their worst PMS symptoms as well as promote an active lifestyle," she adds. "We've ensured that Period Vitamin provides women with the period pain relief they're looking for, as well as the clinically-backed vitamins, minerals, and herbs that have all been shown to promote long-term health."
About Period Vitamin:
Period Vitamin was created in 2009 by a team of holistic experts with many years of experience in research the highest quality herbs, vitamins, and minerals. The makers of Period Vitamin are driven by a single goal: to provide women with the ultimate period pain relief they need to lead fulfilled and happy lifestyles. By providing women with high-quality PMS supplements, the makers of Period Vitamin are helping women live a fulfilling and active lifestyle, free from PMS pain. Experience what Period Vitamin is all about at http://www.PeriodVitamin.com today.
Contact:
Phone:
Email:
http://www.periodvitamin.com