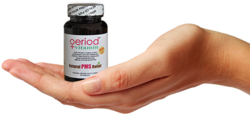 We're delighted that this new research solidifies the strength of our unique formula
Los Angeles, CA (PRWEB) December 31, 2012
There's no denying that many women are on the hunt for the perfect PMS supplement. After all, no woman wants to deal with the miserable cramps, the bloating, the muscle pains, and other common symptoms that accompany the menstrual cycle.
However, women who once believed that they could resort to simple over-the-counter pain medications will be surprised to learn that these remedies might always be the best for treating PMS symptoms. Several recently released studies from major universities and laboratories have revealed the best ingredients for a PMS supplement – and Period Vitamin, a new natural period pain supplement, contains a majority of these lauded ingredients.
"It's just further proof that Period Vitamin is truly the most comprehensive answer for women looking for total relief from period pain," says co-founder Uka Tumur, a supplement expert. "With these studies backing our product, we now have the utmost confidence to tell our customers that they're enjoying the finest PMS supplement on the market today."
Although Period Vitamin was only recently released to the public, word has already spread that this natural PMS supplement contains the powerful ingredients women need to breeze through their menstrual cycles. Period Vitamin contains a specific formula of vitamins, minerals, and herbal remedies, all of which have been shown to support women through their menstrual cycles.
"We're delighted that this new research solidifies the strength of our unique formula," Tumur adds.
These ingredients include vitamin C, vitamin A, iron, red raspberry, black cohosh, white willow bark, and more. Many studies have celebrated these ingredients, including one study recently released by Harvard University. In this study, Harvard researchers determined that vitamin D plays a critical role in improving muscle and bone strength. Vitamin D also provides necessary immune support, which is important for women during their menstrual cycles. (http://www.hsph.harvard.edu/nutritionsource/what-should-you-eat/vitamin-d/index.html)
Another ingredient in Period Vitamin is chasteberry, an ancient herbal ingredient that was used by the ancient Greeks to cure emotional mood swings. It's also been the subject of no less than 30 clinical trials over the last 50 years, including those conducted by The Journal of Women's Health and Gender Base Medicine and the British Medical Journal. All studies have reported the positive results realized by daily chasteberry use.
Period Vitamin contains even more ingredients that have been shown to help women breeze through even the most painful PMS symptoms. One major ingredient – calcium – continually demonstrates it's powerful ability to alleviate major period pain. According to researchers at Beth Israel Deaconess Medical Center in Boston, a double-blind study found calcium significantly reduced mood swings, pain, bloating, depression, back pain, food cravings, and other symptoms associated with a woman's menstrual cycle. (http://www.bidmc.org/YourHealth/ConditionsAZ/Kidneystones.aspx?ChunkID=21660)
Years of research, development, and careful study have gone into creating an innovative and highly effective PMS supplement that's now known as Period Vitamin. Originally designed to help alleviate the PMS pains that were often experienced by both co-founders, Period Vitamin has grown to become a major brand that many women rely on in order to make it through their menstrual cycles.
Additionally, all the ingredients in Period Vitamin have been shown to increase the overall potency of each other. This means that users will experience the most effective period pain relief from this natural PMS supplement.
"What's even better is that Period Vitamin is 100% natural and safe for daily use," Tumur points out. "In fact, we designed it that way.
"It's the kind of promise you just can't get from over-the-counter medication, which can do serious damage to your body with long-term use," she adds with a smile.
About Period Vitamin:
Period Vitamin was created in 2008 by a team of holistic experts with many years of experience in research the highest quality herbs, vitamins, and minerals. The makers of Period Vitamin are driven by a single goal: to provide women with the ultimate period pain relief they need to lead fulfilled and happy lifestyles. By providing women with high-quality PMS supplements, the makers of Period Vitamin are helping women live a fulfilling and active lifestyle, free from PMS pain. Experience what Period Vitamin is all about at http://www.ThePeriodVitamin.com today.
Contact: ThePeriodVitamin.com/contact-us.html
Email: CustomerService@ThePeriodVitamin.com
http://www.ThePeriodVitamin.com