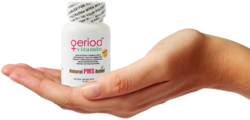 Period Vitamin has created a product that contains no fillers, preservatives, or animal by-products, making it completely safe and effective at reducing the effects of PMS naturally and safely
Chicago, IL (PRWEB) August 16, 2012
With Period Vitamin gaining increasing positive feedback, women can be confident in the safe, natural ability to treat PMS that Period Vitamin provides. The latest version of Period Vitamin has now provided a way for women to permanently eliminate PMS symptoms.
Period Vitamin has secured a place in the women's health market by providing women with all-natural PMS remedies that are a giving them the minerals, herbs and vitamins they need for overall health while providing nutrients to fight PMS symptoms. Women can be healthier and change the way their bodies respond to PMS with an all-natural option.
Many doctors' support over-the-counter options for treating women's PMS symptoms, but very few explain the positive effects natural remedies have on women's health. Those same doctors also promote taking a multi-vitamin daily. Period Vitamin provides the best of both worlds by giving women the nutrients they need through vitamin and mineral supplementation and treating the symptoms of PMS at the source.
Much research has been done to show that women are able to get the same benefits as over-the-counter medications with natural option. Period Vitamin is showing to be just as effective at treating PMS symptoms as pharmaceutical options.
Using only natural suppliers for their ingredients, Period Vitamin can ensure the highest quality of herbs, vitamins and minerals in their product. Period Vitamin has created a product that contains no fillers, preservatives, or animal by-products, making it completely safe and effective at reducing the effects of PMS naturally and safely.
With high levels of positive feedback coming in about Period Vitamin, it is accurate to say that Period Vitamin is becoming one of the best choices for natural PMS relief for women. Women are seeing results and Period Vitamin provides great improvements in the women's health world.
Period Vitamin belongs to a class of supplements called hormone stabilizers. These supplements work by providing the vitamins, minerals, and herbs necessary to stop the hormone fluctuations that are associated with PMS. During the course of the month, the hormone levels in a woman's body fluctuate. When they do, the essential nutrients women need decrease and PMS symptoms occur.
By providing those nutrients, hormones are not able to fluctuate and PMS symptoms do not occur.
Period Vitamin works by keeping the vitamin, mineral and herb levels needed by women at the levels they should be at all month long so that PMS symptoms are unable to occur. This makes Period Vitamin a safe, effective way to treat the root cause of PMS symptoms and not just the symptoms themselves, as most medications on the market do.
Period Vitamin had an initial released in 2008. Since that time, Period Vitamin has been getting positive reviews from women all over the world and found great success in their niche of women's natural supplements. Period Vitamin launched their second version of the vitamin in early 2012 and has proven since then that Period Vitamin is indeed one of the best products on the market for women's health.
Double-blind studies support the findings that herbal therapy does indeed reduce the symptoms of PMS. Studies have been done by some of the most reputable sources; included Cedars-Sinai Medicine Medical Group in Los Angeles, California that proved that the herb Dong Quai had extremely positive effects on PMS related symptoms.
Period Vitamin managed to create an all around, great product for women's health. It is designed to meet women's needs, but provide the nutritional content women need all month long.
Period Vitamin set out to create a product that provides women with the chance to have a symptom free period every month with enhancing women's health and providing women with a product they have needed for a long time.
By giving women a natural option, they are able to make positive, healthy choices for their bodies to get the results they need to live a PMS symptom free life by adding in the vitamins, herbs and minerals that are essential to promoting women's health. With proven results for bettering women's health, Period Vitamin is a great choice for all women suffering from PMS symptoms and worth the try to better overall health.
More information is available at PeriodVitamin.com. Period Vitamin is not sold in stores. It is sold on the website with free shipping and a money back guarantee. The only sales of Period Vitamin that are guaranteed by the company are the sold on the website.
About Period Vitamin:
Period Vitamin was founded in 2008 by women seeking to better women's health through all natural PMS relief. They are a web-based business out of Chicago, Illinois and provide information as well as sell their Period Vitamin product at PeriodVitamin.com.
With a mission to allow women to have a symptom-free period every month, Period Vitamin set out to change the way people view women's health. By providing women with an all natural, holistic option for PMS treatment, Period Vitamin has created a place in the market as one of the best natural supplements for women.
Contact:
http://www.PeriodVitamin.com