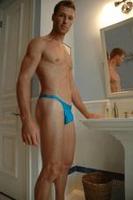 It was so cool to see myself in the catalogue and in the posters in the store.
Tampa, FL (PRWEB) November 8, 2007 -
Mensuas today announces a new contest with fashion model Levi Poulter and Joe Snyder brand of underwear and swimwear. All customers who purchase a Joe Snyder suit through the month of November 2008 at Mensuas - Men's Swimsuit and Underwear Store will be entered into a drawing to win a Joe Snyder suit autographed by Levi Poulter, an autographed picture of Levi Poulter and a CD containing hundreds of pictures of Levi Poulter in Joe Snyder suits.
Levi Poulter started modeling about nine years ago. Levi was working in Miami Beach at a local store and was contacted by Bruce Weber. Levi did his first shoot with him. It was for Abercrombie and Fitch. Levi has a couple of the shopping bags left that he is on. "It was so cool to see myself in the catalogue and in the posters in the store." Levi's next shoot was for L'uomo Vogue. After that Levi got an agency and things started to take off. Throughout his career as a model Levi has worked for Target, Kohl's, Macy's, Brooks Brothers, Kardstat, Brooksfield and numerous others. Visit Levi at http://www.miamilevi.com
Joe Snyder is the most exciting line of underwear for men. Designed for the fashion conscious man, Joe Snyder underwear comes in many different styles including bikini, thong, g-string, boxer, kini and jockstrap. Joe Snyder can also be worn as swimwear and for sunbathing. Perfect for bodybuilders and worn by sports enthusiasts, Joe Snyder is a leading line of underwear for men.
Mensuas has been adding exciting new designer collections to their store. So far this year, Menuas has added Andrew Christian, Speedo, Gia, Elite, C-IN2 and Steven Underwear to the fine collection of men's swimwear, sportswear and underwear at Mensuas. Please check the Mensuas website and the Mensuas Blog for more information about their fine line of designer swimwear, sportswear and underwear. While you are at Mensuas, sign up for their store newsletter. Visit the Mensuas blog at http://joejanis.blogspot.com.
Mensuas has introduced several new product lines to their website. Gia is an exciting new brand of underwear for men available in several different styles including the Red & Black Thong and the Dot Sport Bikini. Elite Underwear has also been introduced at Mensuas. Elite Underwear is fun and exciting with underwear names including Moscow and Munich. C-IN2 underwear has finally joined the lineup at Mensuas. Just introduced, this fashion forward line of underwear is exciting and always changing styles of underwear for men.
Mensuas continues to offer free shipping on all orders over $25.00 shipped to US based customers. International customers are offered very competitive shipping rates to their countries. Mensuas ships their products to their customers all over the world. Priority shipping is available for customers wishing even faster delivery. All orders received 2:00 PM EST are shipped by next business day.
For quality, service and selection, men and women have a great place to shop for quality men's swimsuits, sportswear and underwear, http://www.mensuas.com.
Mensuas is offering their customers a 10% discount on their next order, please enter promotion code undies08 at checkout and receive the 10% discount on your order total excluding shipping charges.
Mensuas' fine collection of underwear and swimwear include brands from Andrew Christian, California Muscle, C-IN2, Delio Dietz, Elite, Gia, Ginch Gonch, GyZ, Joe Snyder, Magic Silk, Male Power, Muw Design, N2N Bodywear, Papi, Punto Blanco, Speedo and Steven Underwear.
# # #