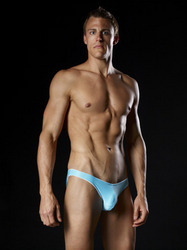 The best customer service and fast shipping!
Bradenton, FL (PRWEB) April 7, 2011
Mensuas debuted their new collection of designer swimwear today. Designed for the modern man, this masculine line of swimwear is inspired by the appreciation of the refined, discriminating man.
The swimwear collection consists of a French swim bikini and swimmer briefs, these swimsuits compliment the assortment of designer swimwear available at Mensuas. Mensuas carries swimwear from Marcuse, Intiman, Male Power, N2N Bodywear, Unico, Speedo, Timoteo and Mensuas. Mensuas range of swimwear is now available at mensuas.com with next business day shipping. Mensuas offers free shipping for US and Canada customers. Mensuas offers great international shipping rates.
To celebrate the introduction of Mensuas Swimwear, Mensuas is offering 15% off all Mensuas Swimwear until 4/11/11. Mensuas is also offering Good Devil, Intymen and Joe Snyder underwear at 25% off until 4/11/11. No coupon is required for this promotion; all items are sale priced during this offer.
Mensuas is a premier multi-brand men's swimwear and underwear company. Mensuas sells current fashions from established designers, fashion houses, as well as emerging designers. Mensuas focuses in the importance of looking stylish, sporty, provocative and sexy but feeling comfortable in a quality product. Everything from underwear to swimwear is geared towards what's hot today and what's selling today. You are not going to find a typical beach guy swimwear at Mensuas but you will find the most interesting styles available today.
Mensuas carries brands you know and trust by Freemen, Good Devil, Intymen, Joe Snyder, Male Power, N2N Bodywear, Pistol Pete, PPU, Private Structure, Sauvage, Rufskin, Speedo, Timoteo, Unico and Uzzi.
Mensuas has been serving the swimwear market for over 12 years. Mensuas is located in Bradenton, FL, Phone (866-964-8765).
###