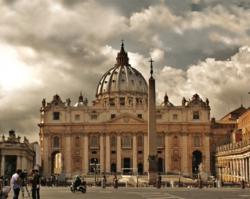 The Catholic Church may be the only organization that can counter the corporate greed fueling the over-prescribing of harmful psychiatric drugs to children and young people. —
Dr. Barry Duncan, clinical psychologist
Los Angeles, California (PRWEB) June 10, 2013
Citizens Commission on Human Rights (CCHR) announces its support of the Vatican for looking into the harmful effects of psychiatric drugs on children in an article written by Kelly Patricia O'Meara.
On June 14-15, the Vatican is holding a conference, "The Child as a Person and as a Patient: Therapeutic Approaches Compared," in order to bring professionals together to discuss the harmful consequences of overusing prescription drugs for treating mental and emotional disorders in children, as well as how a similar trend is hurting pregnant mothers. The conference organizers hope to prove that "psychosocial options" are better than "psychotropic care," and will focus on two main drug groups, antidepressants and antipsychotics.
One of the conference organizers, Dr. Barry Duncan, a clinical psychologist and director of the Heart and Soul of Change Project, has called for "religious orders, Catholic schools, hospitals, medical associations, media and parishes to become informed and help children and families discover alternatives to psychiatric medications, as well as help them have real input when discussing the risks and benefits of such medications."
Duncan is intimately aware of the toll psychiatric drugs are taking on children in the U.S. "Prescriptions for psychiatric drugs have increased by 274 percent globally in over 50 countries since 2003," he says in the article, "Vatican conference to reveal harm of prescription drugs for children," by the Catholic News Agency from June 1, 2013. Duncan's hope is that with the "pharmaceutical industries spending millions and millions of dollars on misinformation, we want to counteract that with this conference."
CCHR supports the Vatican's concern about the over-drugging of children with the following facts:
· About one in 70 preschoolers are taking antipsychotic drugs in the U.S. alone, according to a January 2010 study published in the Journal of the American Academy of Child & Adolescent Psychiatry, titled, "Trends in Antipsychotic Drug Use by Very Young, Privately Insured Children."
· Eleven percent of the U.S. population over the age of twelve is taking antidepressants, according to the Centers for Disease Control (CDC) Data Brief from October 2011 titled, "Antidepressant Use in Persons Aged 12 and Over: United States, 2005–2008."
· Despite the Food and Drug Administration's warnings that antidepressant drugs can cause suicide and suicidal ideation, 1 in 25 teens, aged 12 to 17, are being prescribed antidepressants, resulting in antidepressant use increasing at a rate of nearly 400 percent between 1988-1994 and 2005-2008, as reported in the above CDC Data Brief.
"The clinical trial evidence on psychiatric drugs," says Duncan, "is often skewed by conflicts of interest, particularly when trials are funded by the drug industry or when studies are conducted by people who are paid consultants of the company under review."
Understandably, there are an enormous number of hurdles to overcome, but Duncan believes the Church "may be the only power on earth that can counter the forces of corporate greed that have no moral or ethical conscience."
O'Meara writes, "With the substantial power of the Vatican behind the new push to take a serious in-depth look into the destructive nature of pharmaceutical psychiatric drugs, it is a promising starting point that should be applauded, and one that, at a minimum, has far-reaching implications for, at least, one billion of the Church's faithful."
--
Read full article here.
Kelly Patricia O'Meara is a book author and former award-winning investigative reporter for the Washington Times, Insight Magazine. Prior to working as an investigative journalist, O'Meara spent sixteen years on Capitol Hill as a congressional staffer to four Members of Congress. She holds a B.S. in Political Science from the University of Maryland.