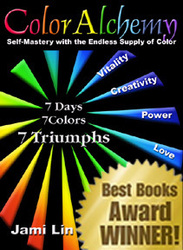 The mind is the key to connecting the beneficial influence of color to the physical, emotional, and spiritual parts of yourself
Miami, FL (Vocus) August 21, 2009
Almost everyone has some mental health concern that could be benefited by some simple technique. Some feel depressed, others may feel out of control, and some would just like their lives improved. In addition to their traditional therapies, mental health professionals and simple self-help techniques use the power of color therapy to help their patients achieve mental clarity and balance.
In her award-winning new book, ColorAlchemy, author Jami Lin says, "With proper light absorption and ColorAlchemy's color consciousness (positive mind energy), anyone can conquer mind over matter, heal mind and body, and soulfully, appreciate the simple joys of life."
Part of the therapy process is talking. When interviewing a patient, therapists can ask them questions that identify the areas in their lives where they find themselves struggling. Then, therapists can apply the appropriate color therapy to amplify the traits upon which the patient requires focus and absorption.
Each color of the rainbow has associated with it various traits. People struggling with their mental health are often lacking in one or more of these areas. By focusing daily on the needed color, and implementing color therapy into daily routines, the patient can overcome his obstacles and lead a happier life.
"The mind is the key to connecting the beneficial influence of color to the physical, emotional, and spiritual parts of yourself," says Jami Lin. People who need extra courage, stamina, and strength to get through a situation should focus on red. Those craving greater happiness, creativity, pleasure, and intimacy in relationships should focus on orange. Greater ambition, personal power, drive, and commitment benefit from yellow. Green helps people with forgiveness, compassion, trust, love, and balance. Blue provides greater focus and clarity, leading to better communication and decision-making. Indigo puts one in tune with inner psychic powers and intuition. Violet brings about a greater sense of peace and inspirational bliss.
Summon the power of the colors by meditating on the needed color for two minutes daily, taking color breaths. Breathe in deeply, and exhale, while focusing on the given color.
Incorporate the color into daily routines via water bottles, cell phone backgrounds, computer screen savers, breakfast dishes, coffee cups, and clothing.
Mental health professionals can even purposefully and subtlety arrange the colors in their office depending on the needed color therapy for each patient. It is easy to change a few colored pillows or provide a patient with the appropriate colored water glass.
Patients should also keep a regular journal, outlining the day's events and associated feelings. They can analyze their thoughts to see how positive they were throughout the day and on which areas they need to focus. Then, they can call upon the needed color, and start fresh the next day.
For further color therapy tips to incorporate into a simple, yet personalized self help practice, visit Jami Lin at ColorAlchemy.com.
About us
Jami Lin's (JamiLin.com) new, award-winning ColorAlchemy book (ColorAlchemy.com), is heralded as "advanced thinking for infinite possibilities." She is a 30-year veteran of interior design. Her expertise evolved into Feng Shui (Feng-Shui-Interior-Design.com), international recognition as a master with six best-selling books, an online home-study certification program, and PBS-TV pilot. Color is her trademark.
Jami's media section provides the press with valuable, tailor-made content using color therapy, Feng Shui, design, and youth-enhancing wellness in: Lifestyle/General Interest, Family/Children, Business Success, Home/Garden, Health: Body, Mind, Energy Medicine, Youth-Enhancing Secrets, and Human Spirit/Awareness.
Jami Lin is available for interviews.
Photographs available on request.
Media contact:
Joy Starr
941-276-8689
ColorAlchemy.com
Written by:
Andrea Coventry
585-482-7702
montessoriwriter.today.com/where-to-read-me
# # #