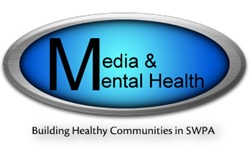 Along with the Staunton Farm Foundation, we are educating newsrooms, briefing journalists on the new AP stylebook entry, promoting use of de-stigmatizing and non-discriminatory language, and encouraging better communication about mental health
Pittsburgh, PA (PRWEB) November 20, 2013
The SWPA Media & Mental Health Awards honoring accurate media coverage of mental health issues within television, radio, print and online media in Southwestern Pennsylvania, will air multiple times on WBGN-TV, Channel 59.1and Verizon FiOS Channel 22. The hour special, hosted by EIC Pittsburgh Regional Director, Susan Brozek Scott, features appearances by Brian Cuban, Pittsburgh native, lawyer, activist and author; Ron Klink, Former Congressman & News Anchor; Sonya Toler, Director of Communications for People of Peduto; Andrew Stockey, WTAE News Anchor/Sports Director; Sheila Hyland, FosterHyland & Associates; Frank Gottlieb, Retired News Director for KQV Radio; Brian Dyak, Entertainment Industries Council; Joni Schwager, Staunton Farm Foundation; and many more!
"Along with the Staunton Farm Foundation, we are educating newsrooms, briefing journalists on the new AP stylebook entry, promoting use of de-stigmatizing and non-discriminatory language, and encouraging better communication about mental health with tailored toolkits and resources that expand awareness and foster help-seeking behavior," said Susan Brozek Scott, Pittsburgh Regional Director, EIC.
"The media is an important driver of public opinion and can be a powerful agent to educate our community on the complex dimensions of behavioral health and offer hope to the families and communities who are affected by these health concerns," said Joni Schwager, Executive Director, Staunton Farm Foundation.
"We are engaging media as a catalyst for expanding the conversation about mental illness through education, resource and recognition activities, including specific tool kits for law enforcement, care givers, faith community, and media," said Brian Dyak, President & CEO, Entertainment Industries Council, Inc. (EIC)
The complete airing schedule is below. Additionally, the show is also available online on EIC TV Network! http://www.eicnetwork.tv
Complete airing schedule:
Wednesday 11/20 10:00 PM
Monday 11/25 10:00 PM
Wednesday 11/27 10:00 PM
Monday 12/2 10:00 PM
Wednesday 12/4 10:00 PM
Monday 12/9 10:00 PM
Wednesday 12/11 10:00 PM
Monday 12/16 10:00 PM
Wednesday 12/18 10:00 PM
Monday 12/23 10:00 PM
Wednesday 12/25 10:00 PM
Monday 12/30 10:00 PM
Wednesday 1/1 10:00 PM
Monday 1/6 10:00 PM
Wednesday 1/8 10:00 PM
Monday 1/13 10:00 PM
Wednesday 1/15 10:00 PM
Monday 1/20 10:00 PM
Wednesday 1/22 10:00 PM
About Entertainment Industries Council, Inc.
EIC is a non-profit organization founded in 1983 by leaders within the entertainment industry to bring the power and influence of the industry to communicate about health and social issues. The organization is considered to be the chief pioneer of entertainment and journalism outreach and a premiere success story in the field of entertainment education. This mission relies on providing resource information to the creative community and culminates in recognition of the industry through the national television special PRISM Showcase which addresses accurate portrayals of substance use issues and mental health concerns. The organization also produces the S.E.T Awards, honoring positive and non-stereotypical portrayals of science, engineering and technology.
For a complete list of health and social issues addressed by EIC and local projects please visit First Draft and EIC's website. EIC's web site is http://www.eiconline.org. The PRISM Awards web site is http://www.prismawards.com.