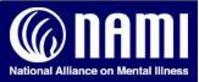 True Life: I Have Schizophrenia
Arlington, VA (PRWEB) May 30, 2008
The National Alliance on Mental Illness (NAMI) will honor television journalist Jane Pauley for contributions to public education about mental illness at NAMI's annual convention in Orlando, Florida, June 13-16, 2008.
NAMI executive director Mike Fitzpatrick made the announcement in his NAMI Blog this week, in which he also discussed the premiere of television documentaries that NAMI has been closely involved with.
Both documentaries featured individuals living with mental illness who shared personal stories -- much like Pauley, who disclosed her experience with bipolar disorder a few years ago.
On May 21, Pauley moderated a discussion by a panel of experts, including NAMI medical director, Ken Duckworth, immediately following the broadcast of the PBS documentary, "Depression: Out of the Shadows."
On May 22, MTV profiled NAMI member, Amber Main, 19, in an episode titled "True Life: I Have Schizophrenia," part of the award-winning documentary series that explores issues affecting young people. Dr. Duckworth answered questions about schizophrenia on MTV's production blog.
At the NAMI convention in June, people from across the country will meet in Orlando to share their own stories and work towards making recovery real for all Americans.
About NAMI:
NAMI is the National Alliance on Mental Illness, the nation's largest grassroots organization dedicated to improving the lives of individuals and families affected by mental illness. Founded in 1979, NAMI has affiliates in every state and in more than 1,100 local communities across the country.
Web Resources:
NAMI Newsletter: nami.org/AdvocateEnewsletterMay08
nami.org/depression
nami.org/schizophrenia
PBS: Depression; Out of the Shadows: http://www.pbs.org/wgbh/takeonestep/depression/index.html
MTV True Life episode on schizophrenia: http://www.mtv.com/overdrive/?id=1586145&vid=234632
MTV production blog with Ken Duckworth: http://remotecontrol.mtv.com/2008/05/22/true-life-qa-your-schizophrenia-questions-answered-by-an-expert/
# # #