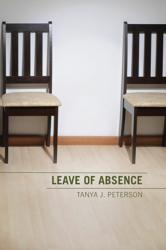 Peterson succeeds in demystifying the world of psychiatric care and challenging the stigma that continues to surround mental health. — Kirkus Review
Eugene, Oregon (PRWEB) May 08, 2013
Mental Health Awareness Month is the perfect time to have conversations about mental health and mental illness. Leave of Absence offers an ideal way to do just that.
Says retired psychology and literature teacher Dan Ripperger of the power of Leave of Absence and its use as a discussion tool, "As a teacher of psychology and abnormal psychology for over twenty five years, I wish I would have had this novel at hand to provide my students with such a beautiful story that promotes a very real understanding of depression and schizophrenia. What a valuable tool for teachers, students, and families! Leave of Absence is a well-researched and constructed novel that depicts how mental illness impacts a human life and those surrounding them. Tanya Peterson has created characters who are authentic and provide the reader with a deeper empathetic understanding of the roots of mental illness. You will be touched and perhaps even shed a tear."
An empathic and honest portrayal of human beings stripped to their core and made to redefine reality and themselves, Leave of Absence reveals the emotional latticework of those suffering from mental illness, as well as the lives they touch. In this insightful and meaningful novel, Tanya J. Peterson delves deeply into the world of post-traumatic stress disorder, depression, and schizophrenia, and proves that fiction can act as a powerful vessel for conveying basic human truths.
When Oliver Graham's suicide attempt fails, he is admitted to Airhaven Behavioral Health Center. Unable to cope with the traumatic loss of his beloved wife and son, he finds a single thread of attachment to life in Penelope, a fellow patient wrestling with schizophrenia and its devastating impact on her once happy and successful life. They both struggle to discover a reason to live while Penelope's fiancé William strives to convince her that she is worth loving. As Oliver and Penelope try to achieve emotional stability, face others who have been part of their lives, and function in the "real world," they discover that human connection may be reason enough to go on.
"Tanya J. Peterson's ability to create vivid imagery with her words, while using strong storytelling to pull readers in shines in Leave of Absence. The story tackles heavy topics of loss and mental illness through the characters Oliver and Penelope. But it doesn't weigh you down because there's a thread of hope running through each page. Society may label these people because of their mental illness, but Peterson humanizes the characters. And before you know it, you see Penelope and Oliver are more than their diagnosis. They're two people, with genuine hearts, supporting each other through a rough time. They're human." — Jeneé Darden, host of Mental Health and Wellness Radio
Written with extraordinary perception into the thought processes of those grappling with mental illness, Leave of Absence is perfect for readers seeking a stirring depiction of grief, loss, and schizophrenia, as well as anyone who has ever experienced human suffering and healing.
Critical acclaim for Leave of Absence is available on the author's website.
Title: Leave of Absence
Author: Tanya J. Peterson
ISBN: 978-1-59299-883-8
Publisher: Inkwater Press
Pub date: 2013
Price: $17.95 e-Book: $2.99
Pages: 327
Availability: Amazon.com, BarnesandNoble.com, Inkwaterbooks.com, Powells.com, iTunes, Kobo.com
About the Author
Tanya J. Peterson is a mental health writer and speaker with multiple perspectives on mental health and mental illness. She holds a Bachelor of Science in secondary education, Master of Science in counseling, and is a Nationally Certified Counselor. She has been a teacher and a counselor in various settings, including a traditional high school and an alternative school for homeless and runaway adolescents, and she has volunteered her services in both schools and communities. Further, she is a client, experiencing bipolar I disorder and anxiety issues. To learn more, visit http://www.tanyajpeterson.com.
Contact the author directly: http://www.tanyajpeterson.com tanyajoypeterson(at)gmail.(dot)com
Contact the publisher: John Williams http://www.inkwaterpress.com john(at)inkwaterpress(dot)com.