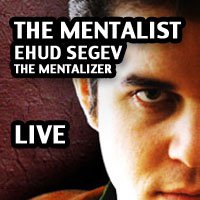 Called 'Amazing' by New York Magazine, 'Dazzling' by Theatermania and 'Astounding' by American Theater Magazine
New York, NY (PRWEB) June 21, 2011
Renowned Mentalist Ehud Segev (aka The Mentalizer) will complete his world tour with a return to NYC on Monday, June 27th with an extraordinary evening that combines mind-control, thoughts transmission, telepathy and totally entertainment. Called 'Amazing' by New York Magazine, 'Dazzling' by Theatermania and 'Astounding' by American Theater Magazine, Ehud Segev has the power to connect with his audience with humor, suspense and mystery and deliver an extraordinary experience of the human mind. He said "I want to use my Mentalizer show to entertain and touch audiences but I also want people leave my show feeling they have learned something about life."
His new show, called "The Mentalizer", will give only one performance on Monday, June 27 at 8 PM at the American Theatre of Actors/Chernuchin Theater, 2nd floor, 314 West 54th Street, west of Eighth Avenue. Tickets at $60 are available only through SmartTix (212) 868-4444.
Born and raised in Israel, Ehud made his New York debut in 2004 with "The Mentalizer Show" which ran on Theatre Row for six months. He returned in 2006 with "Anomal", which told Ehud's life story in a unique 'half-play-half-act' concept. Anomal received unanimous raves and ran for one month.
In 2006 Ehud gained fame for his record-breaking Israeli reality TV series "Ha Yoresh" created to select an official successor to international superstar mentalist Uri Geller. The TV series, which made him a household name in Israel, became the basis for the popular NBC primetime series "Phenomenon" which turned Ehud into an international star.
Around the same time Ehud became one of the few entertainers to sign an exclusive contract with the US army to entertain American troops on bases around the world.
On August 9th, 2006, while Ehud was performing in Mexico, his only brother, Nimrod Segev, was killed in combat in Lebanon. Ehud returned to Israel and founded Free Freedom, a movement that attempts to forge an anti-terrorist alliance consisting purely of civilians. His goal is spreading the message that it is the responsibility of ordinary citizens to keep raising voices against terrorism.
To view video of mentalist Ehud Segev in performance go to http://www.youtube.com/watch?v=aUuUnQ2EM-U.
Off-Boradway Listing Information:
Ehud Segev is "The Mentalizer" Renowned mentalist Ehud Segev completes his world tour with a one-night-only NYC appearance on MONDAY, JUNE 27 at 8 PM at American Theatre of Actors/Chernuchin Theater, 314 West 54th Street, 2nd floor. $60 tickets available via SmartTix (212) 868-4444. For more info go to mentalizer.com
###