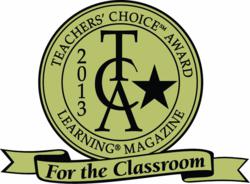 Times have changed. Higher-level thinking is required in every classroom across the nation in today's world.
(PRWEB) January 08, 2013
Mentoring Minds earned the prestigious 2013 Teachers' Choice Award for two of its educational products. For the past 18 years, Teachers' Choice has awarded only the very best products that are classroom-tested and teacher-recommended. A nationwide panel of teachers issued only 43 awards this year, based on a product's quality, instructional value, ease of use, and innovation.
Mentoring Minds' Bullying Guide (written for K-5 & 6-12 levels) won the Teachers' Choice Award for assisting in the prevention of and reduction of bullying on and off campus. Schools use the Bullying Guide to address bullying challenges and to successfully create positive environments where all students are free to learn.
The STAAR Standards and Strategies Flip Charts by Mentoring Minds also received the Teachers' Choice Award because it allows Texas educators quick and easy access to strategies and ideas for grade level standards and TEKS (Texas Essential Knowledge and Skills).
"Times have changed. Higher-level thinking is required in every classroom across the nation in today's world. Teachers have to shift their teaching and move students to learn differently because of the increased rigor in academic expectations," said Michael Lujan, founder of Mentoring Minds. "Our educators design educational resources for teachers that set the pace for emerging teaching and learning strategies and create 21st century learners."
# # #
Mentoring Minds works with educators to give children the skills they need to succeed – in class and for life. Through their full range of K-12 education tools, they help incorporate the critical thinking and lifelong learning skills needed in the 21st-century marketplace. For more information, please visit http://www.mentoringminds.com. TollFree: 800.585.5258
About Learning Magazine's Teachers' Choice Awards: For 18 years, the Learning Magazine Teachers' Choice Awards have heralded the very best in classroom-tested, teacher-recommended products. Each year our nationwide panel of teacher-judges names the standouts in books, classroom supplies, educational games, software, websites, and more—everything you need for your classroom. For the 19th annual program, 43 winners were chosen from across the country.