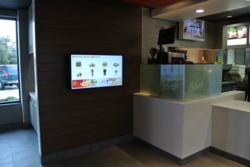 "It was important to me to take the initiative in providing nutritional information before it was law mandated," said Jonathan Chan, the owner and operator of the Richardson McDonald's franchise.
Ankeny, Iowa (PRWEB) February 21, 2012
QA Graphics®, an Iowa-based creative design firm, is pleased to announce the completion of an interactive nutritional kiosk for Jonathan Chan, owner and operator of a McDonald's® franchise in Richardson, Texas.
The nutritional kiosk allows customers to review the restaurant's menu items and nutritional information. To develop the solution, QA Graphics worked directly with Jonathan Chan, the owner and operator of the Richardson McDonald's franchise. This restaurant is one of three franchise locations owned and operated by Jonathan Chan. This location is the first McDonald's location to provide this interactive kiosk experience for customers. When reopening the restaurant at 550 Centennial, Richardson, Texas, it was important to Jonathan to inform customers about the menu's nutritional options.
"We opened such a beautiful, modern restaurant that I also wanted to implement an element of design to make the menu and nutritional details both informative and visually stunning," said Jonathan Chan, the owner and operator of the Richardson McDonald's franchise. "I wanted to take the lead and be the first location to provide a nutritional kiosk like this that's upfront with consumers. It was important to me to take the initiative in providing nutritional information before it was law mandated."
As customers walk into the lobby of the Richardson McDonald's they can view the restaurant menu and nutritional information on a 42-inch LCD interactive display. When interacting with the kiosk, customers can browse the full menu to see images along with nutritional facts for the extensive offering of burgers, sandwiches, chicken, breakfast, salads, snacks and sides, drinks and desserts. The nutrition breakdown provides information for calories, protein, fat, carbohydrates, sodium, and other dietary requirements including fiber, cholesterol, sugars, calcium, and iron.
Customers can also use a Build Your Meal tool to assemble their meal and see what the total nutrition information will be for the selections that they have made. Users are guided through four steps to choose an entrée, snacks or sides, beverages, and dessert. With each item, users are able to customize their selection if they want to reduce calories, sodium, etc. For example, if ordering a salad the customer can select a low-fat dressing, or omit the cheese. Or if ordering a sandwich, they can select which condiments they want included. After building their meal, the user can review their final order along with the total nutrition information.
"The consumer's first reaction has been, 'Wow! What is this thing?'" said Jonathan Chan. "At first, I was concerned about a negative response from consumers; that the information may turn them away from ordering certain menu items. But there hasn't been a negative effect at all. In fact, it's been 100% positive, and at times has served as an opportunity to start a conversation with our customers."
In addition to the nutritional breakdown, information is provided on how the McDonald's menu can be part of a balanced diet. Suggested meals are provided for customers that want to make healthy choices to reduce carbohydrates, fat, or calories, along with other simple tips on how to cut calories. For example, tips demonstrate how many calories can be saved if alternative choices are made like ordering water instead of soda, or requesting no sauce on a sandwich.
"We are honored to have been able to assist Mr. Chan in keeping his customers informed about the restaurant's menu options and nutrition information," said Dan McCarty, president and owner of QA Graphics. "Many food service establishments are providing menu labeling, but a solution like this nutritional kiosk takes the customer experience to another level, providing the customer with realistic visuals and allowing them to interact with the menu based on their personal preferences."
This is the third privately owned McDonald's franchise that QA Graphics has worked with. They also worked with two LEED® certified McDonald's franchises to help them inform customers about their sustainable initiatives. For these projects, QA Graphics provided their award-winning Energy Efficiency Education Dashboard®, an educational kiosk that customers can interact with to learn why the restaurants are sustainable.
QA Graphics offers a number of design solutions for restaurants, quick serve restaurants, convenience stores, grocery stores, retail outlets and others, including nutritional kiosks, digital menu boards, mobile applications for Apple iOS (iPhone/iPad/iTouch), Android and BlackBerry devices, and other multimedia. To learn more call 515.965.3403.
About QA Graphics
QA Graphics is an Iowa-based creative design company specializing in Flash development, touchscreen applications, 3D design/animation, mobile apps and other multimedia. The company is also a leader in the building automation and green building industries, providing HVAC graphic development services and energy dashboards to help organizations educate occupants about building performance and sustainability. Visit http://www.qagraphics.com to learn more.
# # #