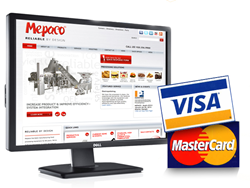 Our engineering team is working to standardize common components which will be part of a replacement wear parts library.
Beaver Dam, WI (PRWEB) July 28, 2014
Mepaco, the food processing equipment group in the Apache Stainless Equipment Corporation family is pleased to accept credit card payments. In response to customer requests, Apache is now set up to process Mastercard or Visa payments.
In the past, our equipment has been engineered or manufactured to order products," says Dennis Buehring, Vice President of Sales and Marketing, "but our small vessel group and after market parts business have really grown. Those deliverables require quick turnaround on standard products and faster, convenient payment options."
According to Buehring, adding credit card payment processing is just a small step in a larger plan to automate processing for after market parts. "Our engineering team is working to standardize repetitive components and then build those components with replacement wear parts into a library that is integrated into our ERP system. The next big step will be a parts shopping cart and automated processing to quicken our response to customers."
About Mepaco
The Mepaco group provides sanitary design food processing equipment to demanding regulatory compliance industries. Food processing machines and systems are cleanable to a microbiological level, accessible for inspection and maintenance and validated for industry cleaning and sanitizing protocols. Mepaco is part is Apache Stainless Equipment Corporation and is 100% employee owned.