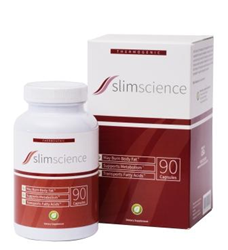 "Slim Science is a safe and genuinely effective product..."-Dr. David Katz, MD
Charlotte, NC (PRWEB) February 10, 2014
Direct Digital, LLC, the developer and marketer of numerous leading wellness and nutritional supplements, including one of the best-selling products sold in GNC, Instaflex® Joint Support, recently launched Slim Science™, a new weight management brand featuring both an appetite suppressant and a thermogenic supplement.
Both products in the Slim Science™ line were developed with cutting-edge, scientifically-significant, key ingredients. However, the Slim Science™ Thermogenic product is particularly unique, as it is one of the few weight management and lifestyle products currently on the market formulated with the effective, proprietary ingredient, Meratrim®.
Meratrim® is a proprietary blend of two plant extracts, Sphaeranthus indicus flower heads and Mangosteen fruit rind. Both plant ingredients, typically harvested from various regions throughout Southeast Asia, are particularly effective when utilized in combination with one another. Each plant provides a key component for optimum efficacy for individuals seeking additional weight management benefits over diet and exercise alone.*
Furthermore, Meratrim® was subjected to stringent independent clinical testing prior to its inclusion in the Slim Science™ Thermogenic formulation. In two randomized, double-blind, placebo-controlled clinical studies, when taken twice daily, Meratrim significantly reduced weight, waist size and hip size after eight weeks when combined with a 2,000 calorie a day diet and 30 minutes of walking 5 days per week.*
Meratrim® is also considered safe, as indicated by the extensive safety testing conducted on the ingredient. When subjected to a 90-day comprehensive broad-spectrum safety evaluation during the clinical trial, Meratrim® showed no side effects and no adverse results.
In addition to Meratrim, Slim Science Thermogenic also contains other premium ingredients such as L-Carnitine (Carnipure™), Razberi-K, and is an excellent source of Vitamin C, as well as Vitamins B1, B2 and B6.
Slim Science™ Appetite Suppressant is also currently available online and in GNC stores across the U.S. It serves as an effective, complementary product to Slim Science™ Thermogenic. Containing the patented ingredient Super CitriMax®, a fruit derivative, this extract can help support reduced calorie intake during a weight management regimen.*
In addition to Super CitriMax, the appetite suppressant product also contains the patent-pending ingredient, Satiereal®, a clinically researched weight management ingredient derived from natural Saffron. Typically harvested from regions throughout the Mediterranean, Satiereal is cultivated from a special crocus plant and is also regarded as a safe and efficacious weight management aid.*
Dr. David Katz, MD, Chief Medical Advisor to Direct Digital stated that "there are all sorts of claims about weight loss supplements, and most of them are false. Slim Science is a safe and genuinely effective product, and can be even more effective when combined with other safe ingredients that also facilitate appetite control. Supplements are never a substitute for eating well and exercising, but the right supplements in the right combinations can certainly be helpful."
Slim Science™ products are available online at SlimScience.com, GNC.com, and at all GNC stores nationwide. This new lifestyle brand is a perfect complement to the other health and wellness products housed within the Direct Digital portfolio, including: Instaflex® Joint Support, Beneflex® Joint Relief, Lumiday® Mood Enhancement, Luminite® Sleep Support, and Nugenix® Free Testosterone Booster.
To learn more about Slim Science™ please visit: http://www.SlimScience.com or http://www.DirectDigitalllc.com.
About Direct Digital, LLC
Direct Digital, based in Boston, MA and Charlotte, NC, is a leader in brand creation, product development and online marketing within the health and wellness space and owns such brands as Instaflex®, Beneflex®, Slim Science™, Nugenix®, Lumiday® and Luminite®. All Direct Digital products are distributed throughout North America and internationally, including Canada and the Middle East. For additional information, please visit http://www.DirectDigitalllc.com.
*These statements have not been evaluated by the Food and Drug Administration. This product is not intended to diagnose, treat, cure or prevent any disease.