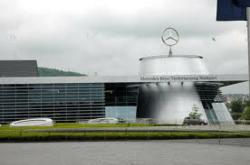 Mercedes Continues to Dominate and Lead Industry Despite Economy
Stevenage, London, UK (PRWEB UK) 8 January 2013
In spite of a global economic recession, iconic German auto manufacturer Mercedes-Benz has set a new sales record in the calendar year 2012. Much of this was due to an increase in sales in both the United States and a strong emerging market in China.
According to the German auto manufacturing company's annual report, the total number of new Mercedes cars sold in 2012 showed a 4.7 percent gain over the previous year's sales. This brought the final number to approximately 1.3 million Mercedes-Benz cars sold in 2012.
Of the 1.3 million total units, 274,134 of the cars were sold in the United States, while only 261,084 new Mercedes-Benz cars were sold in Germany. This was an 11.8 percent gain in the Unites States market and for the first time, made the U.S. the predominate global market – a place which has historically been held by Germany. Almost 200,000 Mercedes-Benz cars were sold in China. This is only about a 1.5 percent gain in total sales for that country over 2011, which emphasizes the potential for growth in Asia.
In the company's annual report, the chief executive officer of Mercedes-Benz parent company, Daimler, stated that he was very pleased with their sales for the full year of 2012. He went on to repeat that the company had exceeded the prior year sales even though the economic environment in Europe in general and southern Europe in particular continued to show difficulty. Growth of this magnitude in what is considered a luxury item in the current economy situation clearly indicates that Mercedes-Benz is doing something right. This may be something that their parent company needs to learn from.
Despite the increased sales by Mercedes-Benz, the Daimler company overall had not been able to overcome the difficult economic environment in Europe and the automobile industry as a whole. After a difficult first half and an unsatisfactory third quarter, Daimler had to reduce its full year predictions in October. In order to recover from the disappointing year in 2012, Daimler is hoping to cut operating costs by about $2.6 billion by the end of the year.
Official data published by the German Association of the Automotive Industry (VDA) stated that registration of new cars in Germany was down by almost three percent in 2012. In December alone, the number of new car registrations dropped 16 percent. In 2011, there were 3.17 million new cars registered in Germany, while in 2012, the total number was only 3.1 million cars.
All of this data indicates a strong growth in one of the finest automobiles manufactured in the world. To learn more about these phenomenal vehicles and purchase new or used Mercedes, or learn about a great Mercedes lease deals, please visit your Mercedes specialist L & L Automotive.