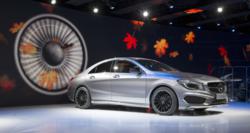 Mercedes-Benz Hertfordshire Announce New Car Models For 2013 | A-Class | CLA-Class | E-Class
Stevenage, London, UK (PRWEB UK) 28 January 2013
Starting the new model offensive at the group's official Retailers in Bishop's Stortford, Hertford and Stevenage is the new A-Class. Available for test drives now and appealing to an unprecedented cross section of drivers, the new A-Class is one of the most talked about new cars and is destined to be the star of its segment.
With a sleek, coupé-like stance and class-leading aerodynamics, the dynamic new A-Class is the first Mercedes-Benz to achieve CO2 emissions of less than 100g/km – the A 180 CDI BlueEFFICIENCY returning 98g/km and an impressive 74.3mpg (combined). Cutting-edge features of the new A-Class include the extensive integration of the Apple iPhone®, ECO start/stop technology, an aircraft-inspired interior and the ability to park itself with the Active Park Assist with Parktronic option.
The new E-Class will arrive a few months later at Mercedes-Benz Hertfordshire Retailers. Visually sporty and awash with pioneering assistance systems and advanced engines, the new E-Class is the result of one of the most extensive enhancement programmes the phenomenally successful model has ever undergone.
Notable additions to the new E-Class that will enable it to maintain its leading position in the fiercely competitive luxury segment include a choice of four different suspensions, new four-cylinder petrol engines and a total of 11 new or optimised driver assistance systems from the forthcoming new S-Class. The quartet of diesel engines available are also the most frugal ever offered in the E-Class range.
June will see Mercedes-Benz Hertfordshire officially launch the CLA-Class – a sleek, four-door model that offers something totally new in the mid-size car sector. With its frameless doors, avant-garde coupé design and world-leading aerodynamics, the CLA is certain to strike a chord with Mercedes-Benz Hertfordshire customers.
Beneath its athletic yet elegant body, which contributes to a Cd value of as little as 0.23, the CLA boasts the latest Mercedes-Benz technology. Features include myriad driving assistance systems, a choice of two sporty chassis and suspension set-ups, multimedia infotainment system with available iPhone® integration, and a range of powerful yet efficient petrol and diesel engines. Notably, the CLA boasts COLLISION PREVENTION ASSIST with adaptive Brake Assist as standard – a radar-based braking system which is able to warn the driver of an obstacle from a speed of 4mph and initiate precision braking when the driver steps on the brake pedal.
For further information on this year's new model launches, release dates, pricing, and pre-ordering details, customers are invited to contact Mercedes-Benz Hertfordshire Retailers in Bishop's Stortford, Hertford and Stevenage.
--END—
Author: David Newman
About Mercedes-Benz Hertfordshire - L & L Automotive
L&L Automotive is the driving force behind a dynamic retail network aimed at enhancing sales and after sales services for the region's existing and prospective Mercedes-Benz, AMG and smart customers.
Encompassing retail outlets in Bishop's Stortford, Hertford and Stevenage, the group is operated by L&L Automotive – a company boasting a lengthy and successful history.
L&L's Mercedes-Benz businesses moved into Hertfordshire in July 2002, when it was selected as one of Daimler UK's key business partners in establishing a revitalised national retail structure.
L&L Automotive is a company registered in England and Wales with company number 4415393
VAT No. 794 6047 92
Mercedes-Benz of Stevenage : +44(0)1438 737800
Mercedes-Benz of Bishops Stortford : +44(0)1279 719333
Mercedes-Benz of Hertford : +44(0)1992 514444