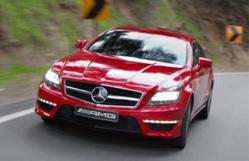 Mercedes CLS buying guide
(PRWEB UK) 13 May 2013
The used Mercedes CLS has proven particularly popular as of late, for, although a new Mercedes CLS model was released to major fanfare in 2010, the first generation of the CLS continues to impress a wide array of Mercedes fans.
Originally released in 2004, the Mercedes-Benz CLS first generation was initially created to be a spin-off of the enduringly popular W211 E-Class. Debuting at the New York International Auto Show, the vehicle soon eclipsed expectations with higher than expected sales in late 2004 and early 2005. Subsequently, Mercedes-Benz released several additional models of the first generation before switching to its second generation model in 2010.
Auto enthusiasts view the process of purchasing a used Mercedes CLS as relatively straightforward, in part because the car has proven itself so durable in the years following its initial release. Safety features should be a chief consideration, with the post-2006 models boasting revamps such as head restraints for avoiding whiplash and an advanced Pre-Safe system. The Pre-Safe system was optional in first generation CLS vehicles but still makes a nice add-on for used purchases. It is designed to predict impending collisions and then take measures such as tightening seatbelts and closing the sunroof to minimise injury when such collisions do occur.
Drivers seeking sportier versions of the standard Mercedes CLS for sale may want to consider investing in modified models such as the CLS 55 AMG, CLS 63 AMG, CLS 280 or the CLS 350 CGI. The latter two on this list are often referred to as CLS Grand Editions, with this label even achieving inclusion on the front wings. The luxurious approach to the 2009 Grand Edition models includes metallic body colours, leather upholstery, multimedia control systems and radiator grille louvres.
Somewhat similar to the Grand Edition in its luxurious approach, the CLS AMG is an earlier model, originally released in 2004. In addition to the standard features of the first generation Mercedes CLS, it includes the superior AMG speed shift automatic transmission system, perforated brake discs for improved deceleration and impressive lateral piping.
Auto enthusiasts continue to love the Mercedes CLS for its attractive styling, superior handling and overall durability. And fans of the Mercedes-Benz are quickly finding that these qualities and more are available in the used Mercedes CLS.
END
Author: David Newman from Mercedes-Benz Hertfordshire
About Mercedes-Benz Hertfordshire - L & L Automotive
L&L Automotive is the driving force behind a dynamic retail network aimed at enhancing sales and after sales services for the region's existing and prospective Mercedes-Benz, AMG and smart customers.
Encompassing retail outlets in Bishop's Stortford, Hertford and Stevenage, the group is operated by L&L Automotive – a company boasting a lengthy and successful history.
L&L's Mercedes-Benz businesses moved into Hertfordshire in July 2002, when it was selected as one of Daimler UK's key business partners in establishing a revitalised national retail structure.
L&L Automotive. is a company registered in England and Wales with company number 4415393.
VAT No. 794 6047 92
Mercedes-Benz of Stevenage : 01438 737800
Mercedes-Benz of Bishops Stortford : 01279 719333
Mercedes-Benz of Hertford : 01992 514444