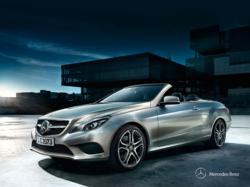 New Mercedes E Class Cabriolet
Stevenage, London (PRWEB UK) 12 June 2013
The stunning Cabriolet is launched alongside the equally attractive Coupé and the stylish pairing complete the new E-Class range, which already offers Saloon and Estate body styles. Both the Mercedes E-Class Cabriolet and the E-Class Coupé are available to view and test drive now at Mercedes-Benz Hertfordshire's official Mercedes-Benz Retailers in Bishop's Stortford, Hertford and Stevenage.
With the weather warming up and the E-Class Cabriolet and Coupé certain to cut a dash this summer, now's a great time for customers to visit Mercedes-Benz Hertfordshire Retailers and sample the cars' many attributes.
With a striking new front end design and revised rear end styling, the E-Class Cabriolet and Coupé are more stylish than ever, while being up to 21 per cent more efficient than their predecessors means that they appeal as much to the head as they do to the heart. As part of the most extensive model revision ever undertaken by Mercedes-Benz, the E-Class Cabriolet and Coupé also boast the most advanced technology to be seen in the brand's cars, such as the inclusion of the Stereo Multi-Purpose Camera that scans the road ahead to aid the E-Class's many safety systems.
Both the E-Class Cabriolet and Coupé are available in two model lines – the luxurious SE, for the E 220 CDI engine only, and the dynamically-styled AMG Sport, which is offered on three diesel engines (E 220 CDI, E 250 CDI and E 350 BlueTEC) and one petrol – the E 200.
As well as a wealth of standard equipment, including leather upholstery and heated front seats, the Cabriolet also comes with the innovative Aircap wind deflector that now automatically engages at speeds above 25 mph and automatically closes at speeds below 10 mph. In addition, the car's sound-insulating acoustic roof can be lowered or closed in just 20 seconds and even at speeds of up to 25 mph.
The new Mercedes-Benz E-Class Coupe is priced from £35,095 on-the-road and the Cabriolet from £38,465 on-the-road.
For further information on the exciting new E-Class range and to arrange a convenient test drive, customers are invited to contact Mercedes-Benz Hertfordshire Retailers in Bishop's Stortford, Hertford and Stevenage.
About Mercedes-Benz Hertfordshire - L & L Automotive
L&L Automotive is the driving force behind a dynamic retail network aimed at enhancing sales and after sales services for the region's existing and prospective Mercedes-Benz, AMG and smart customers.
Encompassing retail outlets in Bishop's Stortford, Hertford and Stevenage, the group is operated by L&L Automotive – a company boasting a lengthy and successful history.
L&L's Mercedes-Benz businesses moved into Hertfordshire in July 2002, when it was selected as one of Daimler UK's key business partners in establishing a revitalised national retail structure.
L&L Automotive is a company registered in England and Wales with company number 4415393.
VAT No. 794 6047 92
Mercedes-Benz of Stevenage : +44(0)1438 737800
Mercedes-Benz of Bishops Stortford : +44(0)1279 719333
Mercedes-Benz of Hertford : +44(0)1992 514444