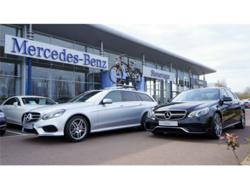 New Mercedes E-Class Arrives At Mercedes-Benz Hertfordshire
(PRWEB UK) 18 April 2013
The new Mercedes E Class Saloon and Estate are now available in two distinct trim levels, the standard SE and the AMG Sport. The SE features an abundance of standard features including active parking assistance and collision braking system. The AMG Sport trim offers substantial upgrades in engine performance, handling and overall appearance.
Major changes to the E Class include a bold front-end design that offers a fresh visual perspective while maintaining the quintessential Mercedes appearance. Substantial changes have been made to the bonnet as well as the front and rear bumpers, plus the radiator grille now features the prominent three-pointed star. The traditional twin headlamps have been transitioned to single halogen units with LED accenting, with full LED lighting available as an upgrade.
Mercedes focused on subtle, yet substantial changes when it came to the E Class interior. The high-quality interior receives several revisions, including a new multifunction instrument cluster and steering wheel. The remainder of the interior is subtly reworked to better reflect the vehicle's exterior changes.
With safety as an important consideration, the Mercedes E Class features a number of advanced safety features, including a state-of-the-art "Intelligent Drive" system. This system utilises a stereoscopic camera and a series of ultrasonic sensors and infrared scanners to detect moving hazards and see through darkness. Other safety features include BAS PLUS with Junction assist, Attention Assist for driver awareness and alertness, Collision Prevention Assist and Brake Assist.
The E Class also features several engines that utilise cutting-edge technology to increase fuel efficiency while reducing carbon emissions to create a smaller environmental footprint. The E200 and E250 saloons feature a new 2.1-liter turbocharged petrol four-cylinder BLUEDIRECT engine that offers 184 horsepower in SE trim and 211 horsepower in the AMG Sport. The E220 CDI and E250 CDI saloons offer a 2.1-liter twin-turbocharged CDI diesel. Power output is 170 horsepower in the E220 CDI and 204 horsepower in the E250 CDI.
The E350 BlueTEC CDI rounds out the available diesel choices, offering excellent power from its 3.0-liter twin-turbocharged diesel engine while providing an exceptional 47.1 miles per gallon on the combined cycle. Mercedes also offers a hybrid version of the E Class in the form of the E300 BlueTEC Hybrid, offering 68.9 miles per gallon in combined motoring and 109 grams per kilometre (g/km) in CO2 emissions.
AMG versions equipped with the unique 557-horsepower 5.5-liter biturbo eight-cylinder engine are also available but are offered separately.
The new Mercedes E Class represents a new chapter in the marque's continuing story of motoring excellence and L&L Automotive is proud to have the E Class available at all of its dealerships for prospective customers to test drive.
END
Author: David Newman from Mercedes-Benz Hertfordshire
About Mercedes-Benz Hertfordshire - L & L Automotive
L&L Automotive is the driving force behind a dynamic retail network aimed at enhancing sales and after sales services for the region's existing and prospective Mercedes-Benz, AMG and smart customers.
Encompassing retail outlets in Bishop's Stortford, Hertford and Stevenage, the group is operated by L&L Automotive – a company boasting a lengthy and successful history.
L&L's Mercedes-Benz businesses moved into Hertfordshire in July 2002, when it was selected as one of Daimler UK's key business partners in establishing a revitalised national retail structure.
L&L Automotive. is a company registered in England and Wales with company number 4415393
VAT No. 794 6047 92
Mercedes-Benz of Stevenage : 01438 737800
Mercedes-Benz of Bishops Stortford : 01279 719333
Mercedes-Benz of Hertford : 01992 514444