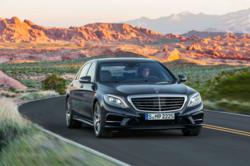 New Mercedes S-Class arrives September 2013.
Stevenage, Hertfordshire, London, UK (PRWEB UK) 29 May 2013
Customers of previous generations of the S Class have come to know them simply as "the best vehicle in the world." Those accolades will likely continue with this new S Class, designed with three priorities. The three are:

Intelligent drive
Efficient technology
Essence of luxury
This new S Class is expected not just to be the leader in technological advances for Mercedes-Benz, for the whole of the automotive industry. It is just part of many reasons why the September debut of the new Mercedes S Class is so anticipated.
How technologically advanced will the new Mercedes S Class be? A S-Class Sunday Times article late last year said it was the vehicle best poised to take advantage of new regulations in the U.K. that will allow for "robocars". These laws, which could be in effect in as little as two years, will allow for automobiles to drive the roads of the U.K. without constant input from the driver. Mercedes has already claimed the S Class to be the most advanced of these intelligent drive vehicles, running not only in urban areas but on motorways at up to 124mph without driver input.
Dr. Deiter Zetsche, Head of Mercedes-Benz Cars says, "No other car stands for the Mercedes-Benz brand promise more than the S Class." He continues by stating when it comes to this new S Class "…aspirations are the best, or nothing." This attention to perfection is expected to manifest itself in Mercedes' priority of "Essence of Luxury". Painstaking design is expected to result in remarkably new high standards of comfort and amenities in the new S Class.
With the new Mercedes S Class, luxury doesn't mean inefficiency. Through its Efficient Technology priority, Mercedes has nearly halved its fuel consumption 150 kW output category to 4.4 litres per 100 kilometres over 10 years. The S Class 300 BlueTEC HYBRID is set to go even lower with a cd figure of 0.23 due to additional aerodynamics. The new S Class is the world's first car to dispense of regular light bulbs entirely. Instead, it will rely entirely on LEDs, leading the automotive industry once again.
The new Mercedes S Class promises to continue to take advantage of a stature that is known worldwide. Its long bonnet, flowing domed roof line and the gently slanting rear end, the new S Class maintains classic saloon proportions. An accented shoulder over the rear wheels give a bit of a muscular appearance, while maintaining its prestigious profile.
Yes, the countdown has begun. From "robocar" type technological advances to a new level of safety and performance. The anticipation for the new S Class continues to grow. If you are interested in a new Mercedes S Class for sale, contact your Mercedes-Benz Hertforshire retailers in Bishops Stortford, Hertford, and Stevenage.
END
Author: David Newman from Mercedes-Benz Hertfordshire
About Mercedes-Benz Hertfordshire - L & L Automotive
L&L Automotive is the driving force behind a dynamic retail network aimed at enhancing sales and after sales services for the region's existing and prospective Mercedes-Benz, AMG and smart customers.
Encompassing retail outlets in Bishop's Stortford, Hertford and Stevenage, the group is operated by L&L Automotive – a company boasting a lengthy and successful history.
L&L's Mercedes-Benz businesses moved into Hertfordshire in July 2002, when it was selected as one of Daimler UK's key business partners in establishing a revitalised national retail structure.
L&L Automotive. is a company registered in England and Wales with company number 4415393
VAT No. 794 6047 92
Mercedes-Benz of Stevenage : +44(0)1438 737800
Mercedes-Benz of Bishops Stortford : +44(0)1279 719333
Mercedes-Benz of Hertford : +44(0)1992 514444