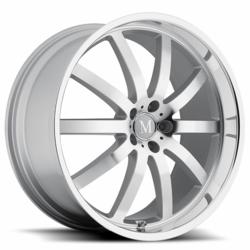 Mandrus Wheels are designed only for Mercedes Benz so there is no compromise on style, quality, performance and fit.
Huntington Beach, CA (Vocus/PRWEB) March 29, 2011
Mercedes wheels have always had their own distinctive style. Mandrus has built performance wheels to fit Mercedes Benz vehicles and retain the specific style that is synonymous with Mercedes Benz. "Mandrus makes wheels exclusively for Mercedes Benz vehicles. We are focused on making the perfect looking wheel for your Mercedes while ensuring the perfect technical fit for your Mercedes," says Terence Scheckter, President of Mandrus Wheels, "Mandrus Wheels are designed only for Mercedes Benz so there is no compromise on style, quality, performance and fit." Mandrus Wheels can be found on the web at http://www.mandruswheels.com/
Mandrus Wheels introduces the WILHELM, a thick sporty multi-spoke available in an exclusive Mercedes Benz application. The WILHELM has a bold new style, with smooth spokes reaching back to a nice lip. This is a staggered one piece wheel capable of delivering the caliper clearance to fit most larger brake applications on AMG models, as well as the standard models.
The WILHELM comes available in a variety of staggered applications for Mercedes Benz. Sizes are available from 17",18",19", 20" and 22", with the 20" and 22" also available with a load rating capable of carrying the GL. This wheel is available in Silver with a mirror cut face and lip, Gloss Black with a Mirror Cut Lip and a beautiful full Chrome.
Mandrus designs and builds Mercedes Benz Wheels only. Since all Mandrus wheels are made only for Mercedes Benz vehicles, all technical aspects of the wheels are designed around these motor vehicles. Mandrus Mercedes Wheels are hub centric and do not use cumbersome spacers. This means that the wheel is centered or located on the hub by a machined center hole-as opposed to "lug centered" wheels that are located by the position of the lug nuts alone. Hubcentricity helps to maintain a similar ride like vehicles with the OE wheels.
Mandrus Mercedes aftermarket wheels are designed for the OE Mercedes Benz tire pressure monitoring system (TPMS). Also, the center cap on the wheel has been designed so that the OE Mercedes Benz center cap can be used.
Mandrus Mercedes Benz Wheels have been designed in specific sizes to perfectly fit the vehicles and to facilitate the use of the perfect tire size. There are staggered applications for sizes from 17 inch through 22 inch. This facilitates the use of wider tires on the rear of your Mercedes and aides in traction. "These alloy wheels are synonymous with style as well as performance," says Terence Scheckter.
Of course, updating the wheels on a Mercedes vehicle might be about giving the vehicle a new look, but upgrading Mercedes Wheels will also improve and enhance the handling of the vehicle. Many people want to know how larger wheels affect the handling of their Mercedes Benz motor car. The handling can be improved by running larger wheels. Having larger wheels means running a low profile tire and usually a wider tire. The low profile tire often performs better when cornering and braking as tire roll is greatly reduced. The low profile tire will result in a stiffer ride. This increases the response that can be felt from the steering wheel. Updating wheels is not just for good looks, it's for better driving.
Mandrus offers five different wheels styles, in monoblock or one- piece and multi-piece designs. Mandrus wheels has developed a virtual wheels configurator for users who visit the Mandrus site. "The configurator enables a true visual representation of Mandrus wheels on Mercedes Benz motor cars" says Terence Scheckter, President of Mandrus Wheels, "The configurator has a great look and an easy to use interface for test fitting Mandrus Wheels on your Mercedes on-line".
About Mandrus Wheels for Mercedes: Mandrus Wheels was created to make wheels exclusively for Mercedes Benz motor vehicles. Mandrus has had 30 years of experience in the wheel industry. Mandrus manufactures S-Class wheels, SL wheels, SLK wheels, E-Class wheels, C-Class wheels, CLK wheels, CLS wheels, CL wheels, GLK Wheels, GL wheels, ML wheels and R-Class wheels. Mandrus offers its Mercedes wheels in 17 inch, 18 inch, 19 inch, 20 inch and 22 inch staggered sizes.
Pricing of the Wilhelm Wheel ranges from $230 – $ 530 for Silver with a Mirror Cut Lip and $350 – $750 for Chrome. For a dealer near you call: 1-800-479-9723, or visit Mandrus Wheels on the web at http://www.mandruswheels.com The wheels are available through most high-end wheel stores in North America, including Discount Tire Direct at discounttiredirect.com
###