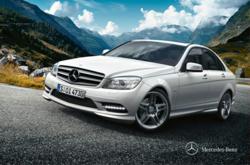 buying a Mercedes ex-demonstrator can be a new experience.
Hertfordshire UK (PRWEB UK) 21 December 2012
For those who a Mercedes-Benz really is a must-have, an ex-demo model from Mercedes-Benz Hertfordshire will allow them to fulfill their dream in double quick time.
The vast selection of ex demonstrator models available at the group's official Retailers in Bishop's Stortford, Hertford and Stevenage are essentially used Mercedes-Benz, but are used Mercedes of a different calibre to what many associate to be a pre-owned vehicle.
These ex-demonstrator models are the next best thing to a brand new Mercedes-Benz and in some cases can actually offer additional benefits over buying the equivalent model brand new. The biggest benefit is that these Mercedes-Benz used cars are available for immediate delivery – ideal if customers are interested in some of the most popular models and wish to avoid any lead times for the delivery of the equivalent brand new model.
In addition, these ex-demonstrator Mercedes used cars offer a significant saving over the price of a comparable brand new Mercedes-Benz. Of course, these cars will have had one very, very careful owner too, and will have covered very little mileage in the short time that they have been available for customer appraisal at Mercedes-Benz Hertfordshire Retailers.
What's more, many of these ex-demonstrator models will be very well specified too, Mercedes-Benz retailers in Hertfordshire often order them with a variety of desirable, factory-fitted options to demonstrate to customers the extras that can be specified at the time of purchase.
Of course, there is no better place to buy a Mercedes used vehicle from than an official Mercedes-Benz Retailer. Pre-owned Mercedes-Benz can be sourced from an independent or non-official Mercedes specialist, but none will have been recognised to meet the standards of a Mercedes-Benz Approved Used vehicle or will come with the benefits. It's also rare that a non-official Mercedes-Benz retailer will be able to supply such nearly-new models as the ex-demonstrator Mercedes-Benz offered by Mercedes Bishops Stortford, Mercedes-Benz of Hertford and Mercedes-Benz of Stevenage.
The selection of ex-demonstrator models available at Mercedes-Benz Hertfordshire Retailers is vast, spanning from the very best used A-Class to examples of the flagship Mercedes S-Class for sale. With the Mercedes-Benz range being so varied, there's an ex-demonstrator to suit the budget and needs of everyone. For someone who needs an executive express there are examples of the stylish CLS for sale and used E-Class available, while for those who require a stylish SUV there are a number of used Mercedes ML Hertfordshire ex-demonstrators to choose from. Luxurious, versatile family transport is catered for with used Mercedes B-Class ex-demonstrators and sports cars are also represented, including used AMG models, used Mercedes-Benz CL models and used Mercedes-Benz SLK for sale.
For further details of the ex-demonstrator models available at Mercedes-Benz Hertfordshire, along with the full group stock of Approved Used Mercedes-Benz that include used Mercedes C-Class and pre-owned Mercedes CLC for sale customers are invited to contact the group's Retailers in Bishop's Stortford, Hertford and Stevenage.
-END-
Author: David Newman - Digital Marketing Executive
About Mercedes-Benz Hertfordshire - L & L Automotive
L&L Automotive is the driving force behind a dynamic retail network aimed at enhancing sales and after sales services for the region's existing and prospective Mercedes-Benz, AMG and smart customers.
Encompassing retail outlets in Bishop's Stortford, Hertford and Stevenage, the group is operated by L&L Automotive – a company boasting a lengthy and successful history.
L&L's Mercedes-Benz businesses moved into Hertfordshire in July 2002, when it was selected as one of Daimler UK's key business partners in establishing a revitalised national retail structure.
L&L Automotive. is a company registered in England and Wales with company number 4415393
VAT No. 794 6047 92
Mercedes-Benz of Stevenage : +44(0)1438-737800
Mercedes-Benz of Bishops Stortford : +44(0)1279-719333
Mercedes-Benz of Hertford : +44(0)1992-514444