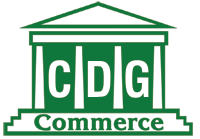 We are confident that cdg360 gives merchants everything they need to do business and conduct payment processing in both a secure and compliant manner, without adding to their workload.
Chesapeake, VA (PRWEB) October 10, 2012
CDGcommerce (http://www.cdgcommerce.com), a leading merchant services and credit card processing provider with tools including a free payment gateway, announced today the launch of cdg360. Bringing together a wide range of payment processing and security features, cdg360 allows merchants to accept credit cards and electronic checks in the most secure and cost-effective environment possible. Major features of cdg360 include comprehensive fraud prevention tools, customized security alerts, ongoing vulnerability scanning, $100,000 security breach protection, a patent-pending InLine Frame (ILF) solution, and a tokenized vault for secure data storage.
"Many of our customers use a combination of different merchant services from different vendors to create an overall solution," says Chris West, CEO at CDGcommerce. "We have found that the best results come from a secure gateway, along with fraud protection, training, and other related services. Our new cdg360 plan gives businesses everything they need to accept credit card payments and minimize their exposure and the risk of fraud. Best of all, packaging these services together means we can offer an extensive solution at a single low price."
With over 14 years of experience in merchant services, credit card processing, and ecommerce payment services, CDGcommerce provides the most cost-effective solutions on the market without compromising service quality or performance. CDGcommerce pioneered the use of a free payment gateway, powered by Quantum Gateway, enabling customers to take payments through their website without having to pay a recurring monthly fee. However, many customers choose to supplement their gateway with additional services, including fraud protection and robust security. The new cdg360 package bundles these individual services together, allowing customers to instantly activate a wide range of services that together create a comprehensive payment processing solution.
"Our focus has always been on delivering the best possible payment processing for our customers, even though the gateway is free," says West. "But the actual processing of transactions is just one side of the ecommerce landscape. It is also important to consider the security implications of processing card payments and mitigate the risk that working with sensitive data creates. Our goal is to reduce the exposure of our customers, help them secure their systems and procedures against data loss, and allow them to accept payments without the constant stress and worry of a potential security breach. cdg360 encompasses all of these things along with the payment processing for just $25 a month."
Available at a low monthly price, cdg360 combines popular merchant services to create a single, extensive solution. In addition to a merchant account and access to the Quantum Gateway, cdg360 includes features designed to reduce the likelihood of data loss or security breach. These features include ongoing vulnerability scanning, customized security alerts to inform customers of potential threats, and staff security awareness training. Customers can also use cdg360's patent-pending InLine Frame (ILF) solution, effectively reducing their risk by removing direct contact with payment card data. Using the ILF, which can be integrated into any website, all sensitive and confidential data is handled by CDGcommerce, not the merchant. By offloading data handling to CDGcommerce, merchants are less responsible and accountable in the event of a breach. cdg360 also streamlines PCI DSS compliance, by allowing merchants to outsource 100% of the transmission, processing, and storage of their cardholder data to a PCI compliant and certified gateway solution.
"With security training, monitoring, and the ILF, merchants are more protected than ever with cdg360," says West. "Of course, for those worst-case scenarios where a breach does occur, cdg360 also includes a $100,000 security breach protection plan. We are confident that cdg360 gives merchants everything they need to do business and conduct payment processing in both a secure and compliant manner, without adding to their workload. These merchant account services are worth an estimated $2,500 a year. We are proud to announce that cdg360 makes these merchant services easily accessible and brings them together for just $25 a month."
From the launch of its free merchant gateway to the announcement of the new cdg360 plan, CDGcommerce is a company that remains committed to delivering professional payment processing at the most competitive price. With so many features available, cdg360 is a cost-effective and complete solution for any merchant.
About CDGcommerce
Established in 1998, CDGcommerce has quickly become a prominent leader in online credit card processing for merchants across the U.S. As an award-winning merchant provider and online credit card transaction processor, CDGcommerce has a reputation for providing world-class wireless, retail, and online payment processing services. The company also develops many pioneering technologies to help merchants successfully reduce the risks of online credit card processing and defend against fraud and chargebacks as well as tools to help streamline PCI DSS compliance and enhance merchant security.
For more information on CDGcommerce, visit http://www.cdgcommerce.com.