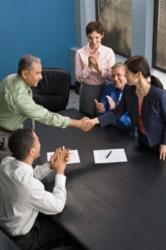 Partners are the way Merchant Data Systems sees themselves with others. This is not a service provider in the traditional sense, rather the company enjoys becoming true business partners with the clients they service.
Little Rock, AR (PRWEB) February 24, 2013
Arkansas merchants are now able to join the Mergers & Acquisitions Partner Program created by Merchant Data Systems (MDS). The program allows merchants to enter a partnership and to receive resources for their business. MDS provides cash advances to businesses of varying sizes that is secured by future credit card receipts. Extra funding is beneficial and helps with growing a business.
The first year of a business is crucial. Business owners have to market their company, attract customers, make sales and build an online presence. They also have to be organized and set up a budget for every aspect of running a business. A marketing budget is essential for making a company known in an industry. Some business owners have a small market budget or do not have access to extra funding.
Not having enough capital is a problem when running a retail store or any type of company. Most people try to raise capital when dealing with a lack of funds. There are resources and options available, but it is a matter of getting access to the resources. Banks offer loans, but require collateral, good credit history and industry experience. A new business owner is not going to have these things and may not qualify for a commercial loan.
Getting a loan from friends and family members is another option. Some friends and family members are willing to invest, but expect a fast turnaround. It is not always a good idea to borrow from loved ones because the chance of losing the relationship. Friends do not want to loan out a large sum of money and usually do not have the money to give.
MDS wanted to address the problem of merchants not having enough capital with the M & A Partners Program. Merchant accounts work similar to bank accounts and allow businesses to process credit cards for services and goods. Companies that provide these accounts to businesses are known as merchant account providers or ISO agents. ISO agents charge a fee to companies for processing credit card transactions. Merchant portfolios contain a collection of credit card accounts that is maintained by ISO agents.
Merchant processing provides online stores and brick & mortar companies with the ability to accept credit cards, which maximizes the opportunity to sell services and products. Accepting credit cards allows businesses to make transactions without the risk of using cash and checks. Credit cards are safer and allows for fast payments. They also provide merchants with the ability to verify and track transactions. Merchant accounts that accept credit card payments allows companies to provide their services via mobile systems and online.
The M & A Partner programs partners with ISO agents. ISO agents can obtain immediate cash from the sell of a merchant portfolio with active accounts. MDS also approves the transactions within 24 hours, which allows for businesses to expand and have access to extra capital. Adelard Gasana, Co-Founder of Karma Snack and partner with MDS mentions, "Partners are the way Merchant Data Systems sees themselves with others. This is not a service provider in the traditional sense, rather the company enjoys becoming true business partners with the clients they service."
MDS is an experienced merchant acquirer and has been in the industry for years. There are many benefits to teaming up with this company. MDS is currently making partnerships in Arkansas and has the funding. This is a true business relationship and allows for working together to improve portfolio values. This relationship allows for concentrating on marketing while MDS takes care of joint venture pricing and back office support.
Participants have access to competitive prices, payment products, solution based customer support, same day credit and merchant approval and merchant services sales. The deals are structured to meet the needs of the merchants. Businesses also do not have to worry about penalties or maintaining a minimum.
Partners can take advantage of a variety of resources to help with growing their business. An agent portal is available and easy to navigate. It is loaded with support materials, such as monthly training opportunities, writable merchant applications and a proprietary gift card program.
Businesses are always looking for ways to save money. MDS helps business owners to scale down their business model and decreases operating expenses. Partners can work with a professional customer service team who can help guide them through the program. MDS also owns a BIN and underwrites merchants.
Owning a business is the dream of many people and means being financially free. Some people never meet their goals because of not having enough capital. There are resources for merchants, but it is important to take advantage of the right opportunities.
Business owners should work with a professional and experienced company. MDS created the latest program with small businesses in mind. They have a variety of resources available, such as dividends, stock, equity, salaries, infrastructure, competitive pricing, joint ventures, funding, support, roll-up premiums, partner, profitability and enhanced product suite. The Mergers & Acquisitions Partner Program provides businesses in Arkansas with enough capital to expand their business.