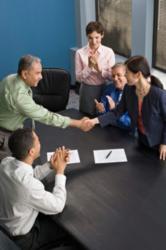 Baton Rouge, LA (PRWEB) November 02, 2012
The Mergers & Acquisitions Partner Program is a new service from Merchant Data Systems (MDS) being launched in Louisiana. Potential clients who join the program can take advantage of the different resources, services or products. This program improves the daily functions of a business and increases the ability to accept credit cards for payment. Business owners with cash flow problems can become ISO Partners, sell ISO portfolio, or join a residual buyout program. Merchant portfolios are another source of income for business owners. They can make their portfolios more valuable through MDS and use it as leverage.
The M & A Partner Program provides funding to businesses who want to expand or attract more customers. When MDS buys a merchant portfolio, businesses are given immediate cash for funding their business ventures. MDS buys outstanding contracts from credit card transactions from businesses. Potential customers get access to immediate cash when they sell their merchant portfolio to MDS. Residual income is turned into instant cash through this new program. There are no holdbacks and potential customers can become partners without giving up control. Potential customers are going into business with a company that has 15 years of experience of providing quality service as a merchant services provider.
Joint ventures and Residual Buyout programs are available to participants who want to join the program. There are programs to fit the needs of any type of business. MDS has solutions for ISOs who are currently working with the company and for potential ISOs who need funding for their business. Potential clients receive instant funding for merchant portfolios with complete contracts from credit card processing. MDS also provides speedy service and can complete a transaction within a reasonable time. The residual buy-back programs are encouragement alone to join because of having funds for any company needs and a convenient way of gaining cash.
Partnering programs are a great move for businesses because of the many benefits of forming a relationship with MDS. MDS can handle merchant processing and provide funding now. Forming a working relationship with this company means a true business relationship and improving portfolio values. Potential clients continue to work on their business while MDS handles back-office support and joint venture pricing. Forming a partnership also scales business models and lowers expenses because of operational integration.
Since inception, MDS has had a good track record with their services. This company stays competitive with a professional customer service staff, owns a BIN and underwrites merchants. Merchants have access to other services like same day merchant accounts and ISO Program Products and Services. The M & A Partner Program is unique and gives the answer for running a successful business. Other benefits are dividends, office space, stock, salaries, infrastructure, equity, monetization, competitive prices, partnership, joint ventures, roll-up premiums, enhanced product suite, profitability and support.
MDS is a quality service and can help with improving merchant services sales. It is essential to form a partnership with a reliable company rather than risk struggling financially. Clients are happy to work with a company that has 15 years in the industry. Companies have the opportunity to maximize their business potential with a successful company like MDS.
MDS has made a name in the industry since 1997 and is a complete payment processing business. The company can accommodate businesses from different markets. Examples of their services are 24/7 Customer Service, Electronic Benefits Transfer, Technical Help Desk, Electronic Check Conversion, POS Leasing and Equipment Sales, Check Guarantee, Automated Account Settlement, Credit Card Processing, Debit Card Processing, Loyalty programs and Merchant Cash Advances. Premium payroll programs are available and allows for operating efficient businesses. Potential clients also benefits from the consultative approach taken by MDS and help with getting services at a reasonable price. The different resources allow partners to focus on their business with ease of knowing that payment acceptance tools are helping to increase in-store sales.
MDS provides these services across the country and well known in the industry. They have relationships with the largest FDIC insured banks, alternative payment providers and software integrators. The company is convenient and can connect at anywhere and anytime. Merchants can accept every form of payment, which allows for attracting more customers.
MDS gives merchants access to tools for ensuring longevity in business. The company remains competitive in the industry by implementing initiatives to enhance merchant's experience for accepting and processing payments. Partners can run their business with ease knowing MDS make on-time payments and a proven track history.
Potential clients can participate in competitive ISO/MSP Agent programs. Goals are laid out for merchants to ensure longevity in merchant satisfaction, competitive pricing and selling. MDS is looking for new Acquisitions and Equity partnerships through the M & A partner program. This program provides unparalleled support infrastructure, cash and equity for new partners.