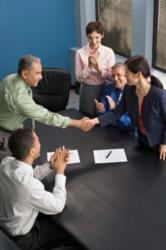 Merchant Data Systems is a leader in the merchant acquirer sector because they offer a program that gives business owners varying options for how the acquisition will be handled.
Santa Fe, NM (PRWEB) February 06, 2013
Companies in New Mexico can now participate in a Mergers & Acquisitions Partner Program which can benefit their businesses. While this may seem like a new concept, selling a merchant portfolio, businesses are seeing the real possibilities and a way their company can benefit through these programs. At the helm of the partner program is a company called Merchant Data Systems. It is pretty hard to have anything to do with the merchant processing world and not know about this mega giant.
Merchant Data Systems began as a credit card processing company back in 1997. They soon found their niche in the industry and began their fierce support of their merchants. The company was started with a foundation of customer service. This is the kind of company that when a person calls, they talk to a representative that knows what they are talking about. Because of their dedication to their customers, they have a help desk that operates 24 hours a day and is open 7 days a week. In fact, they don't close on major holidays, just another way they make sure their customers have what they need, when they need it. Those who may consider entering into a partner program with this company will find that they not only have a partner but a support system in the business.
Taking on the role of Merchant Acquirer, they are looking for companies that want to sell their ISO portfolio, and make cash on the deal. Because they want to buy merchant portfolios from fellow merchants, they are willing to pay for those acquisitions. How the program works is quite simple, MDS will purchase the company's portfolio and they will in return pay cash to the company. Now, for those who might be thinking that this may be a risky move, there is some news that will keep their minds at ease. This mega giant is not looking to take over anyone's company, just the opposite. They want to partner with fellow merchants and help with their credit card processing.
The real significant purpose of this program is to alleviate the stress and hassle of monthly credit card processing from a company. Most companies have to hire employees and purchase equipment to be able to maintain their credit card processing. Entire departments can be eliminated just by signing up and taking advantage of this partner program. Think of the overhead that can be saved by just having someone outside of the company taking care of this aspect of the business. Adelard Gasana, Co-Founder of Karma Snack and partner with MDS mentions, "Merchant Data Systems is a leader in the merchant acquirer sector because they offer a program that gives business owners varying options for how the acquisition will be handled."
The real advantages to this arrangement are that the company can continue to build their portfolios and make changes as necessary. They are not signing it away relinquishing their say or control; they are simply gaining help in the processing. So which companies qualify for a partner program with MDS? The company first must be profitable and able have enough transactions to allow MDS to gain around twenty percent each month. Second, the company must be willing to allow someone else access to their financial records, only regarding credit cards, and be open and communicate with them. Last, the business owner must be able to show a significant processing history and a need to have a partner helping out. Companies that find themselves in financial distress would not qualify for this program. This is not a system that will save a company that is in danger of bankruptcy, rather it is for companies who have a real need for help with credit card processing.
MDS is a merchant services and sales company and their number one goal is to make money. However, while making money is what business is all about, they have built a solid reputation on helping others and having outstanding customer service. Rather than waiting for another month of overwhelming costs, an entire department can be eliminated and the savings will really increase. The entire purpose of this program is to allow businesses a chance to make it profitable in the increasingly harsh business world.
So what does this program mean for those who utilize it? It means they will take on a business partnership with MDS. They will use their state of the art processing equipment and be bringing some comfort to companies who no longer will have this worry. They will handle all the issues surrounding credit cards, including charge backs. The company will just see the funds deposited into their designated account and know that their partner is taking care of their end of the bargain and leaving the everyday operational items to them.