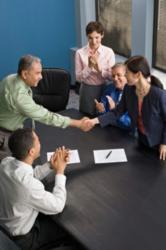 Charlotte Amalie, Virgin Islands (PRWEB) October 10, 2012
The Virgin Islands are a haven for tourists and vacationers who spend money enjoying themselves. Local merchants are there to accept that cash in exchange for the services they render. Local independent service operators are needed to supply those merchants with the equipment they need to remain in business. Since the tourist economy is always booming, that local service operator is often contacting their merchant services contact for replacement equipment as the old equipment breaks down. But merchant services sales is a low margin business as equipment costs are high so there is little room for mistakes. What if that local service operator needed to expand because their client base grew? Would they have the money to do that? Would they have the money to hire more staff or replace retirees? What if they grew tired of planning all that expansion or simply of working that hard? What happens to their service or the reputation of the merchant services on the Islands? What do they do with the equipment?
Merchant Data Systems(MDS) is one of the most prolific merchant services companies in the business. They not only provide efficient merchant services for any company in business, but also supply smaller merchant service companies known as Independent Service Organizations or ISOs with wholesale equipment and funding to continue their support of local businesses. However, if an ISO decides that running their merchant service company is becoming too expensive, MDS will allow them to explore some options that normally prove worthy to everyone involved.
Merchant Data Systems provides funding through its own network of merchants or BIN. It also provides supplies and technical support to any ISO that asks. However, if running that local merchant service is proving difficult to the ISO, they will also encourage partnerships with them that can improve how well that ISO does business. This support can include far better wholesale discounts on supplies and machinery, updated software packages, and lower mailing costs. The whole point is to ensure that the local ISO serves their own community with better performance than they do currently. ISO partnerships with MDS have proved very profitable to both through the years.
Also, there is a third alternative for that ISO who has exhausted his funds or lost the desire to operate independently. The ISO can sell their merchant portfolios. For as a merchant acquirer, MDS will buy a merchant portfolio and the merchant services that come with it from the ISO in cash. This, of course, does two things right away. The first is that they can sell ISO portfolios and eliminate their current responsibilities. The second is that it the purchase by the MDS prevents a drop in the service to that local community as a result of the lower performance rating from that local ISO. This saves the reputation of the ISO in the local community and continues to support merchant services there for future generations.
If the local ISO is simply tired of running their own business, the first option provides him or her with a great opportunity to build their merchant portfolios by expanding their services without undue duress. Expanding a small business with low profit margins can be difficult in the best of times. The purchase of new advertising and new equipment once the advertising has attracted new business can cost a small business dearly. Planning for those expenditures takes time and focus which takes the attention of the ISO from their current clients. This is where a partnership with MDS comes to the rescue. MDS can float the funding to the ISO ameliorating the expenditure over time so the ISO can more easily focus both on his current clients and on the advertising campaign as well. With that new exposure, new clients come forward and the small business grows. That serves the purposes of both the ISO and MDS.
To be able to do this, MDS has to have a great deal of experience in the industry. Well, with 15 years of experience providing merchant services to the public and supplying local merchant service operators with their needed funding and supplies, it has that level of experience. Merchant Data Systems wants to partner with local ISOs for the reasons noted above. If that is not acceptable to the local ISO, MDS will allow the ISO to sell their portfolio and walk away or become a valued employee of MDS itself. The local ISO has built up a wealth of experience providing merchant services to their local community. MDS would be foolish not to invite that level of commitment and talent into its house as an employee. Therefore, MDS happily purchases the inventory and hires the ISO as an employee on full salary with stock options if the ISO does not want to be an independent distributor of those services anymore. An excellent option for that ISO.
In the final analysis, MDS provides terrific merchant processing either through its own network of merchant services or through its mergers & acquisitions partner program which provides needed assistance to its community of merchants. Another win-win for both companies.