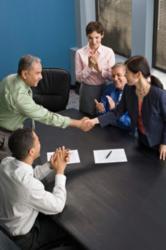 Richmond, VA (PRWEB) October 21, 2012
The largest issue new businesses or entrepreneurs have and small businesses experience is a lack of funding to take their concept to market. They may have excellent ideas and very marketable products, but if they do not have the funding to move that product in front of the general public in a substantial way, their business fails. It is the main source of failure today among small businesses. Merchant Data Systems (MDS) knows this and wants to change it for all small merchant businesses (Independent Service Organizations or ISOs) running in Virginia today. MDS wants to help fund these small businesses and has established a new partner and acquisition program to do just that.
What MDS can do for businesses is manifold. With 15 years of experience in funding small businesses, it has the experience to move any small merchant business through to the next level. It has its own funding source so the young merchants will only need MDS to reach that next level. Young merchant suppliers usually retain multiple accounts to maintain their payroll and office supplies. Merchant Data Systems is also a merchant acquirer and will pay cash for the right to transfer all those merchant portfolios to its control and consolidate those merchant service sales. Most importantly, those small merchant businesses need to focus on their merchant service sales and support their local community businesses, not the administration of that service. Whether you are testing the waters with MDS or brand new to it, they will perform all those functions for that small merchant while leaving the small businessman in charge of the accounts. This means the small businessperson can use their hard cash for other issues in running their business while MDS improves the efficiency of running that business at a lower cost to the small business itself. That is a win-win for each new account.
Now, there is also a second tier to the MDS plan. An ISO can partner with MDS as well as hire them for their administrative needs. This means the small merchant does not have to pay for all its support by itself, but rather partners with the larger Merchant Data Systems for that purpose. This means no longer having to pay individual pricing for all office needs, but instead partnering with the parent company for far greater competitive pricing on the same supplies and infrastructure. This reduces cost to the ISO, enabling them to again focus more narrowly on its main goal of pursuing new accounts more freely. With a lower cost structure, less worry about the financials of the business, and more time to pursue growth in the business, partnering with MDS may be the easiest business decision a small business merchant can make this year. There is also one added benefit to partnering with MDS. As part of the partnership, MDS will transfer stock of its own to the partnering business. This means as the parent company, MDS, grows, so does the valuation of the smaller partnering businesses. This is easily a win-win for both partners. Partnering also enables the small merchant business to invest in new products and new avenues of revenue more easily. If the ISO sees a potential avenue of new revenue, but does not have the funds to move forward with the project, as a partner in that project, MDS will provide those needed funds and the smaller business partner grows with the new accounts. MDS has its own BIN and therefore is its own underwriter for insurance and other financial assets. This makes closing contracts with the clients very easy and profitable for everyone concerned.
The third tier that MDS offers new or existing customers is to buy a merchant portfolio from that small ISO. If the ISO owner is tired of running their own business and supporting whatever staff they employ, the can sell a merchant portfolio. MDS will buy merchant portfolios for cash and allow that small business owner to sell their ISO portfolio and decide if they want to transfer their skills from running their own shop to simply becoming a valued employee of MDS itself. In that case, that small merchant business owner becomes a salaried employee of MDS and MDS becomes an even better company.
There are clearly many options for the small Independent Service Organization in the merchant service business. Business ownership is a valued skill and can provide a rich and rewarding life. However, it can also be a very difficult life to manage with significant responsibilities. MDS provides alternatives to the ISO such as merchant processing and/or a merchant mergers & acquisitions partner program that are both valuable and not necessarily available in other industries. The small business merchants would be wise to take advantage of this.