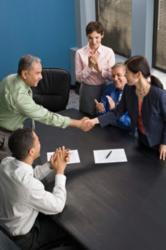 Partners are the way Merchant Data Systems sees themselves with others. This is not a service provider in the traditional sense, rather the company enjoys becoming true business partners with the clients they service.
Cheyenne, WY (PRWEB) January 17, 2013
Merchant Data Systems (MDS) is bringing its incredible mergers & acquisitions partner program to Wyoming. This is a great opportunity for businesses all over the state. MDS has over 15 years experience successfully partnering with businesses in a wide range of industries. Partnering with MDS can help businesses in a variety of ways. Whether it's an established business, a new one or a business that is trying to expand MDS has vast resources that can help them attain their goals. MDS can tailor the mergers and acquisitions program to meet the needs of any business.
MDS is a merchant acquirer which has the ability to help businesses in a number of different ways. They can buy a merchant portfolio, help to improve profitability by forming joint ventures, help with merchant processing and even enable companies to make necessary infrastructure changes. MDS can help with the seemingly mundane tasks such as helping to secure office space, restructure salaries, find funding and help to monetize merchant portfolios. They can also help with roll-up premiums and provide a diverse range of other support services.
There are many other benefits for companies that partner with MDS. Because they have their own BIN, it is able to underwrite merchants and help them to scale their business model while lowering operational expenses. Participating merchants can decide what level of partnership they want with MDS. They can choose operational integration, accept limited funding or work with MDS to enhance the value of their portfolio. MDS is prepared to use its capital to ensure the companies they partner with improve their profitability. They are willing to provide back office support, assist with customer service and offer joint venture pricing.
MDS does not demand take over power. Owners of companies that partner with them remain in control of their businesses and focus on the areas of their business where they have the most expertise. MDS can even offer same day merchant accounts and ISO Program services and products. MDS is willing to pay cash for the company's merchant portfolio or give an ISO the money they need to help their business to grow. They also offer a number of residual buyback programs which allow businesses they partner with to get the cash they need. Adelard Gasana, Co-Founder of Karma Snack and partner with MDS, mentions, "Partners are the way Merchant Data Systems sees themselves with others. This is not a service provider in the traditional sense, rather the company enjoys becoming true business partners with the clients they service."
Participation in the MDS partnering programs can help a company move from the brink of bankruptcy to financial stability. The staff at MDS has a great deal of experience in identifying companies with potential and helping them to fulfill that potential. Often all it takes is some advice and direction and an infusion of much needed funding. However should the company be interested in one of MDS' residual buyout programs they can have one designed to meet their needs. In some cases MDS may be willing to purchase the company's credit card processing.
With the expansion of the MDS mergers & acquisitions partner program to Wyoming companies in that state now have the opportunity to work with a veteran merchant acquirer which has a track record of success with just about every company with which they have partnered. MDS has shown partnering companies how to increase dividends, enhance product suite, monetize their portfolio and increase profitability. Companies that partner with MDS have consistently seen the value of their stock rise. The joint ventures have led to larger salaries and the ability to benefit from competitive pricing and greater stock equity.
Whether the company wants to sell their merchant portfolio or increase merchant services sales, MDS can help. Because MDS has a lot of experience as a merchant acquirer they know the steps to take to quickly close the deal and begin working to improve the stock value of their partner companies. Merchant Data Systems is a true partner. They are committed to helping the companies the joint with to strengthen their infrastructure, improve their customer service and get the funding they need to succeed.
It has made them the ideal partner with which to merge.
Almost any company can take advantage of the opportunity to be part of MDS' mergers and acquisitions program. Whether the company is an ISO which already works with MDS or is an ISO which is brand new or a company attempting to grow MDS is always willing to be of assistance. MDS not only offers support in a wide range of areas, they also make very competitive ISO re-seller programs available to them.
If a Wyoming company needs help with merchant processing, merchant services sales, funding, back office help and more they should simply contact Merchant Data Systems and inquire about participating in their incredibly successful mergers & acquisitions partner program. It is an opportunity which can help a company fulfill their potential, increase the value of its stock and benefit its staff and shareholders.