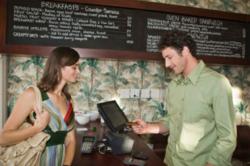 Montgomery, AL (PRWEB) July 11, 2012
Alabama merchant services—like those in every state and in the District of Columbia—include those of the Miami Beach, Florida-based Merchant Data Systems (MDS), founded in 1997 and has recently teamed up with Karma Snack. This team up results in expanded services to MDS' Alabama merchants. MDS has added the capabilities of Karma Snack to their ever-growing list of internet marketing services. These services, along with their other services, keeps MDS customers with the highest quality of merchant services.
MDS is one of the foremost credit card processing companies, a business that specializes in solutions that enable merchants to accept credit cards from their buyers, which include credit card machines and a mobile card reader. Only a person with a merchant account can purchase these items. The card terminals come from five different lines, including Verifone (a relatively simple type, with only the basic buttons and functions) and Hypercom (more complex and sophisticated).
MDS has provided an ingenious device for mobile credit card processing (so that its account holders can conduct business even when they are nowhere near a PC). Known as the ROAMpay card reader, it comes in the form of a half-moon shaped gadget with a slit running most of its length for sliding cards through, and a hook for attaching it to the top of one's cell phone. The instructions outlined in the next paragraph for using it apply equally to all smartphones—iPhone, Bluetooth, Samsung Galaxy, and Blackberry—however the app that needs to be downloaded in order to be able to use it, is designed differently for each; it is available from roamdata.com and some other places. No additional hardware is required for the card reader.
To illustrate how the ROAMpay device is used, let us use as our example Tony Burton, head of a company in Birmingham, Alabama, that sells medical supplies to hospitals and clinics. In a restaurant, while having lunch with a client, he makes a sale for an automated external defibrillator (item #9767). After logging into his online merchant account with his secure credentials, he then proceeds to plug in the ROAMpay swiper and selects "Credit sale" from a seven-item that appears on the screen. Then he enters the total amount of the transaction; presses "Next;" presses "Swipe;" and slides his client's card through the slit in the reader, with the stripe facing the front. All of the buyer's personal data appears on the screen in truncated form. Mr. Burton presses "Next" and may enter a few notes which only he can access and which are meaningful only to him. For example, he might type in "Item #9767 to be shipped to UAB Medical Center by 1 P.M. today." To send a receipt to the customer's inbox, Mr. Burton checks the box next to "Send receipt" and types in the person's email address. Finally, he presses "Submit;" authorizing the transaction will take only a few seconds.
The payment gateway is another big part of MDS' aid to merchants. A gateway is the equivalent of a terminal in a brick and mortar company. The most extensive service is provided by First Data Global Gateway, which transmits data over a secure connection between the company and the buyer's payment issuer (bank or check processor), and informs the former whether the card has been approved or declined.
Incidentally, though we have only been mentioning credit cards, all of the technology discussed above will work just as well for debit cards, which differ from the former only in that transactions involving them are deducted directly from the buyer's bank account, with no interest being charged. For that reason—besides being able to access the new bank balance immediately—debit cards are coming to rival credit cards in popularity, although the level of security with them is considerably lower, and there is less time to report cases of theft.
MDS also provides special services for special types of clients. Low costs are available to all and, in addition, Internet business may get e-commerce hosting, web design, and multiple hardware and software options; mail and telephone order companies, address verification systems and fraud protection software; and restaurant and retail companies, compatibility with every point of sale system.
To set up a credit card merchant account, all one has to do is provide his personal name (the company name is optional), phone number, and email address. Also optional are one's type of business and types of transactions (e. g. retail [swiped], gift card program, pay-at-the-table).
To their partners, MDS always say: Let us have a successful and profitable relationship.