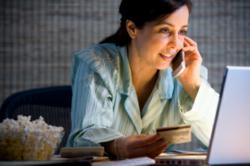 Topeka, KS (PRWEB) September 07, 2012
Merchant Data Systems is a merchant service company, which is limitlessly growing their capabilities to assist retailers who own an apparel and accessory store. MDS can help these customers with their credit card processing and much more. Determined to be the biggest and best merchant processing company, MDS has teamed up with Karma Snack to be able to provide even greater services. Offering customers services to succeed in the business world is what MDS is all about. As a merchant services provider, they are constantly expanding and increasing their current services to allow better service to their customers. MDS is looking to form relationships with their merchants. Their desire to meet the needs of their customer is what sets them apart from other merchant processing companies.
MDS is increasing their business into all portions of the United States to help those who run an apparel and accessory store. Using the best resources, they are continuously increasing online competencies to service customers across the United States. Merchant Data Systems is so much more than just a corporation that offers credit card terminals to their customers; they can also offer:
The Ability To Process Credit Card Payments
The Ability To Process Debit Card Payments
Wireless Event Credit Card Payments
Electronic Check Processing
POS Integration
Credit Card Terminal Rentals
Equipment Sales And Rentals
Merchant Cash Advance
Financing For Equipment
Loyal Customers Programs
Payroll Solutions
Invoicing Solutions
Teaming up with Karma Snack allows MDS to bring a whole new realm of possibilities to their customers. They can utilize Mobile SEO and online shopping carts on any e-commerce system. Any apparel and accessory store that utilizes online shopping can have help with their e-commerce. Those aiming at a greater clientele need to have a superior online presence, which will also increase revenues. Customers want a hassle free check out process online; they want to put items in their shopping cart and pay quickly. Another item of interest is customer security. MDS goes above and beyond to comply with all regulations regarding the use of credit cards online. Customers can shop with ease knowing their transactions are secure.
Nearly every retail establishment accepts credit cards. There are still a few stores that operate on a cash only basis, but they are very limited. There are some that think the processing fees are outrageous and would rather use cash. Companies that limit themselves to cash only are missing out on a great deal of revenues. Most people avoid carrying cash and prefer using plastic. The credit card terminals are small and barely take up any space. In fact, if the credit card terminal is the problem, POS integration can allow a business to use a machine that has the credit card swiper build right in the side of the register.
Who would have ever though that a cellular phone could be used as a payment method? New technology has allowed mobile phones that have they are run by Android or Apple software to download mobile payment apps. While this is new in its inception, it is quickly catching on. Customers can simply swipe their cards through a reader attached to a smartphone. How simple is that? MDS has the technology to allow these new electronic transactions to be done safe and secure. Using PCI regulations for safety, MDS makes sure all transactions are compliant.
Credit card machines are just a tiny fraction of all the variety of things that MDS offers to their merchants. Every business owner runs short on cash at some point. While cash advances classically are thought of as a loan for the working person, businesses can also benefit from these loans. MDS offers cash advance services to their valued merchants. Based on past credit card sales, it is easy to borrow enough money to make payroll or get extra supplies.
Most establishments have stopped accepting checks. Collecting NSF checks have become an overwhelming problem and it ends up costing the merchant a great deal of money. MDS wants the business to be able to accept all forms of payment, including the electronic check. Using an electronic check reader, the funds are debited from the checking account and the check returned to the customer. This allows a merchant to tap into the funds directly, in the checking account ,and skip the NSF and bounced checks. The machine verifies the funds and makes sure the account is valid before it gives an approval code. It is just one more way that MDS shows their value to their merchants.
Merchant Data Systems is the one company that offers a business so many services to make accepting payments easier. Because they offer a variety of other services, MDS can give a merchant the support and assistance they need to make it in the business world. MDS is merchant services and a whole lot more.