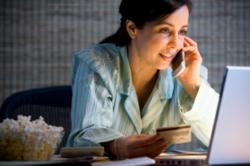 Phoenix, Arizona (PRWEB) July 12, 2012
Arizona Merchants who need a merchant account, mobile credit card processing, an online merchant account, a payment gateway, or even credit card machines, are in luck. Merchant Data Systems (MDS) is expanding the services they offer in Arizona. Merchant Data Systems has added the capabilities of Karma Snack, a Miami SEO agency, to their ever-growing list of internet marketing services. These new services are now part of the package of Arizona merchant services which MDS provides to businesses in the region. These services, along with beginning to accept credit cards, needing access to credit card processing companies, or simply needing a credit card merchant account, MDS can provide it for you.
MDS continues to grow online by aligning with companies which allow it to better serve its customer base in the Arizona region. By teaming with Karma Snack, MDS can now help its clients to set up their Mobile SEO programs. Digital marketing generates a large and growing number of clients. MDS now has access to the latest technologies being used in the industry. Doing business with MDS gives you access to those technologies as well.
Depending on the nature of your business, MDS can tailor their services to meet their client's specific needs. The services they offer include:
Charity Processing
Credit Card and Debit Card Processing
Electronic Check Processing
Equipment Financing
Gift Card and Loyalty Programs
Merchant Cash Advance
Payment Processing
POS Equipment Sales and Leasing
This list is by no means complete. MDS can also give their clients access to their Innovative ISO/MSP Agent Program, help find e-commerce solutions to expanding their clients' business, or help their clients become a virtual merchant. These new services are just a small part of MDS' growth. They have a number of new services scheduled to be added in the near future. Business is rapidly migrating online. If a business lacks the capabilities to take full advantage of the opportunities the internet provides, that company may be left behind. By teaming up with MDS, a business is perfectly positioned to explore all opportunities which come their way.
Karma Snack predicts that by 2014, retail store sales will be eclipsed by online and mobile purchases. It's imperative that businesses equip themselves to leverage those income streams as they present themselves. When a business chooses MDS to handle their merchant services, they are not just getting access to today's latest technologies, they are also guaranteeing themselves access to many other technologies that are in development. MDS' partnership with the internet savvy staff at Karma Snack is designed to keep MDS and their customers ahead of the curve for many years to come.
By doing business with MDS, businesses will have access to such next generation payment processing technologies as virtual merchants and electronic checks. MDS can also offer its clients Real-Time POS inventory management system. That allows business owners and their staff to know, at a glance, the status of their inventory, identify sales patterns, and prepare the appropriate number of products and services based on documented purchasing trends.
The evolving market practices increasingly call for flexibility on the part of merchants. They must be prepared to do business at the drop of a hat. One of the many services MDS offers their clients is the ability to accept mobile payments with smart phones. We live in an era when people are increasingly mobile. Major business deals are often completed in the most unusual locations. As a businessperson, the ability to accept payments using your smartphone can be just the advantage you need to remain competitive in your industry.
Wireless technology is rapidly transforming the way people do business. MDS can provide clients with the secure, PCI regulations compliant hardware, technology, and systems to process credit cards using a smart phone or any type of wireless terminal. Wireless processing allows a company's representatives to safely accept credit card payments at fairs, concerts, or sporting events with complete confidence. Merchants can even handle all manner of credit card transactions at those locations. This technology is indispensable for people whose business requires them to be constantly out of the office. As long as the cardholder is present, they can complete the transaction.
About 80% of the smartphone market shares are handled by Apple and Android phones using HTML5. Businesses that earn their money using E-commerce shopping cart systems and online stores using POS integration must be prepared to adapt to the new technologies coming down the line. MDS can help. They have the capacity to set up point of sale integration with mobile capability and shopping cart systems. MDS keeps their clients alongside the latest technological tools for doing business.