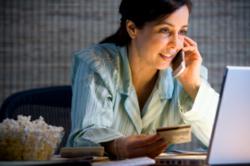 Chicago, IL (PRWEB) August 24, 2012
An automotive tire store is a sound business investment in any country with a large number of cars. With such a variety of brand names, tread types, and explicit purpose of different tires that stores have to stay competitive. They have to offer the biggest possible variety at the lowest possible prices. However, with technology getting more advanced every day, stores also have to offer the most convenient payment methods to make shopping as simple and straightforward for customers as possible. This is all now possible through Merchant Data Systems.
How customers pay for their goods is a factor in where they shop. For instance, if a business didn't have credit card processing, business would drop off sharply. Unless, of course, that store had something that no other store could provide. After all, a business that can't accept credit cards is almost anachronistic. For businesses that need merchant services, but who don't know who to turn to for their needs, Merchant Data Systems is a company that's definitely worth a look.
Merchant Data Systems, or MDS, offers a wide variety of merchant processing services to help any business thrive and succeed. For instance, this company offers invoicing solutions, POS integration (point of sale), payroll solutions, and dozens of other possible hand and foot holds for a business to climb to the top of its field. However, that's not the only reason that MDS should be any business' company of choice for its support services.
In addition to offering merchant cash advance and mobile payment solutions, Merchant Data Systems prides itself by being on the cutting edge of merchant technology. There was a time when credit card machines were practically nonexistent because the idea of a credit card was so new. However, the idea caught on and more and more companies finally gave in and jumped on the band wagon, accepting these cards as legitimate forms of payment. MDS, as a company, stays one step ahead of the curve to offer clients access to tomorrow's opportunities today.
Careful research and laying the groundwork before the technology becomes too common are the keys to MDS' success. For instance, when the idea of mobile payments, or paying by simply waving your smartphone in front of a reader was proposed, the company began to look into the practicality of the technology. It examined how common smartphones were going to be, and how likely the HTML 5 that smartphones ran on was going to be. After all of that research had been conducted, MDS decided that this was going to be a legitimately popular form of payment, and as such it laid the groundwork for incorporating that technology into the services that they support. Now mobile payment is as legitimate a request as credit card terminals, and MDS can handle one, or both of them with equal aplomb.
Not all businesses have greeters and a shopping cart waiting for their customers to walk in through the front doors. In fact, with the explosion of technology and the ease of access to the Internet, many companies operate on pure e-commerce for the bulk of their sales. Whether they sell crafts made at home or they deal in antiques, they simply don't need to have a brick and mortar store front like they would have in the old days. However, they do need support from a merchant services company in order to actually sell their products and process the payments through the Internet.
There are also mobile types of credit card technology nowadays. At county fairs, baseball games, or a Renaissance fairs merchants have hand held credit card terminals. Or, as are often seen with small businesses at conventions and similar venues, there are devices that can turn smartphones into credit card machines. All it takes is a plug in and any merchant can take customers' cards and swipe them right from the convenience of their phones. As long as the merchant has reception, her or she don't have to rely on cash payments alone.
So no matter what kind of business a merchant runs, or what kind of support he or she need, Merchant Data Services has it covered. Whether it's just being able to take credit cards and give customers a receipt, or tomorrow's technology today, MDS can do it. Merchant Data Systems can provide all the access that a business needs and at levels appropriate to its requirements.