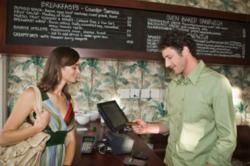 Miami Beach, FL (PRWEB) July 29, 2012
Merchant Data Systems has teamed up with Karma Snack, an internet-marketing service which brings in an extensive background in marketing and research to MDS. MDS provides resources for revenue because of its help with commercial loans and lending power. MDS offers companies numerous resources to expand their business and payment processing. Karma Snack is an internet marketing service that specializes in increasing the bottom line through generating leads and possible sales. The combined Web marketing and services company can assist a business to exceed in increasing their bottom lines through advertising, web marketing, search engine optimization, and education.
Just as a bakery takes many ingredients to bake a delicious pastry, a merchant account needs the ability to integrate sales and marketing into their company for the perfect production campaign for a successful merchant service company. The team up between MDS and Karma Snack will offer new services which provide a business with all of the ingredients necessary.
POS integration combines consultation and solutions with hardware necessary to conduct, streamline, and balance the operations in online business. Karma Snack and Merchant Data Systems provide efficient solutions to the day-to-day sales and marketing of online services. As part of the company suggests the best solutions are to offer trained programmers, installation technicians, and dedication to all aspects of the industry. With POS, individuals can depend on the merchant services total package to expand the business of its customers as well as provide services necessary to run an online business.
MDS and Karma Snack joined forces to assist businesses new and old with the capabilities that they specialize in such as payment processing, commercial loans, merchant services, credit card, and debit card processing, and assisting with equipment financing or leasing. High-risk merchants can depend on the reliability of the MDS to meet their needs for online services with accounts that accept credit cards and e-checks.
Most companies generate revenue with many different payment options. Credit card processing and wireless payment is successfully possible with the use of MDS. Some companies use shopping cart to process their credit and debit cards online. With mobile payment, a company has the ability to process credit and debit cards on the go. Individual sales individuals can close a sale without the possibility of loss of sale due to inability to process the credit card on the spot. With mobile payment solutions available, the bakery, or another business, is able to deal with the outside public and accept payment on the spot.
Karma Snack brings advertising and marketing expertise to the table. They have many experienced personnel available to offer advice and knowledge when a business is seeking to advance their capital. With the knowledge and experience Karma Snack provides, the merchant can reach more customers with the products and services they offer.
Online companies are expanding their capability to accept credit cards or online payments with the eCommerce and online store processing. This allows the online company to process cards, or other payments with a merchant account. Some eCommerce accounts allow the ability to accept electronic checks for payment solutions. These usually take a couple days to process, sending the revenue into the companies account within that time. With e-checks, the company can offer additional ways to process sales without sticking strictly to the credit or debit card mainstream capability.
Some companies find it necessary to incorporate credit card machines as well as mobile payment options to run their online business to full capacity. Accepting online payments and e-checks offers the business with all they need to succeed in payment solutions and merchant account handling solutions. With the addition of a shopping cart and credit card terminals, the business can take their products anywhere.
MDS and Karma Snack give the client many additional services that are not possible with most payment processing companies. Payroll solutions are set in motion with the accounts set on the MDS. The company not only can receive payroll solutions, but has access to invoicing as well. By offering invoicing solutions, the company will see how their sales are being generated and have information on items they may wish to change. With invoicing, the company can access stock on hand and keep track of orders and payments made to the website. With the additional benefit of merchant cash advance, a company has everything they need to process and develop their company to its full service capacity. Merchant processing is available with these online services offered by Karma Snack and MDS.
Customer services that offer the capability to close a deal with wireless processing have the ability to process greater sales. These services allow the individual to offer to accept credit cards or debit cards when working away from the office. The terminals attach to a smart phone or android operating system such as an iPads or iPhone. All of these new services provided by MDS will greatly enhance any bakery's business.