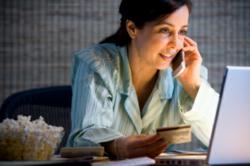 Merchant Data Systems stays on top of the latest trends in E-commerce and mobile payment options to help businesses stay competitive as the retail landscape changes.
Austin, TX (PRWEB) December 21, 2012
An important factor with the ever-growing barber and beauty business, is making sure to have barber & beauty supplies and equipment readily available to keep a company thriving and pleasing clientele. Merchant Data Systems helps businesses grow and prosper by maintaining their electronic payment processing needs.
Merchant data systems in conjunction with Karma Snack has teamed together to bring beauty and barber suppliers as well as their clients well needed services to help their businesses meet their financial goals. An important fundamental factor when it comes to making customers happy and satisfied is simplifying their experience when they visit. Having effective credit card processing tools in place will prevent having to turn away customers who don't have extra cash on hand. Card processing software systems can be easily implemented into the mainstream accounting systems of most businesses to provide effective and smooth transactions.
If a beauty business is mobile, so should the payment processing. For trade shows, home visits, and big events, suppliers may have to travel in order to meet the needs of clients and potential new customers. Having an effective mobile credit card processing system in place will allow for customers to purchase products, pay for memberships and services all with the convenience of one swipe of the card from a mobile phone device. A small device that easily swipes a credit card from a mobile phone is just as effective as using a credit card terminal in a storefront. Adelard Gasana, Co-Founder of Karma Snack, mentions, "Merchant Data Systems stays on top of the latest trends in E-commerce and mobile payment options to help businesses stay competitive as the retail landscape changes."
For the online merchant who is just starting to see a huge spike in sales, being able to accept credit cards is a must! Merchant Data Systems has software that is compatible with most of the major credit card companies including MasterCard, Visa, Discover, AMEX and Diners Club. This simplifies transactions and can increase sales because customers will remember how easy the check out process was with a particular website.
Making sure that all credit card terminals are in working order is a concern for most small business owners. No one wants to deal with a machine or computer that is out of service or unavailable. Having a 24-hour customer service support help desk will assure that customers and business owners are never in the dark about a particular transaction or technical difficulty.
Having a business is also about the employees and staff who run the business and put hard work and effort into their jobs. Taking care of employees means meeting payroll expectations every pay period. When times are tight or an unforeseen circumstance arises, a merchant cash advance is available to qualified merchants. This allows employers or designated personnel to be able to withdraw funds before they become available. This is like a temporary line of credit that is available to qualified business owners.
Having credit card machines set up in designated areas of a salon or storefront will make it easy for hairdressers and suppliers to service their clients. If the salon services nails in addition to selling beauty supplies, the transaction is likely processed before the procedure. This simplifies the process and allows customers to pay in advance for certain services.
Being able to service a variety of payment options is important to providing well-rounded business services. Merchant processing can include credit card processing, electronic check transactions and debit cards payments. Karma snack and MDS have the capabilities together to meet the needs of small business owners and online merchants by offering a variety of online and mobile payment options for customers and clients as well.
When it comes time to paying employees, MDS offers payroll solutions that can be integrated into an existing accounting system to simplify the overall process. Automatic payments can be set up in advance that are approved after payroll has been processed. Everything is separate from customer sales and services, allowing the business owner to view debits and credits with ease.
Paying the bills has never been easier with MDS invoicing solutions. Once all invoices are processed through accounts payable, the system can be personally designed to automatically pay vendors or generate a check that can be mailed at a later date.
MDS offers a variety of POS integration options for companies who offer one or more terminals that may service different needs or clientele. Companies such as IcVerify, Micros and Verifone are cost-competitive so businesses are able to choose which company will meet their exact needs and expectations.
In this e-commerce world, meeting the needs of the client or customer is of utmost importance with merchant services. Not only are products and services the foundation for a thriving and successful business, how money exchanges hands needs to transcend perfectly or it can cause a trickle-down effect of disaster that could ultimately bring business and cash flow to a grinding halt. Whether its credit card processing or keeping employees paid on time, ultimately, having a full shopping cart with every transaction helps keep the business churning and growing.