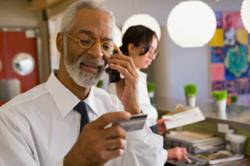 Hartford, Connecticut (PRWEB) July 14, 2012
Merchant Data Systems (MDS), the leading credit card processing company has now entered Connecticut merchant services to provide its high quality merchant solutions to the merchants of Connecticut. The capabilities of Merchant Data Systems are far greater than the other credit card processing companies. The reason behind that is the unique system and services of Merchant Data Systems. MDS has relationships with all the major finance companies and institutions as well as the merchants throughout the entire United States, which makes it possible for MDS to connect to any merchant at anytime and anywhere. Moreover, their team up with Miami SEO company Karma Snack has added much more to the capabilities and the services of merchant data systems. Now, Mobile SEO and high quality internet marketing are not something out of reach for merchants who have online merchant accounts with MDS.
MDS is the company that equips the merchants with the most efficient and most up-to-date payment gateways. The company provides the merchants three payment processing methods including its own unique offerings. While adopting the payment gateways, the administration at MDS has kept in mind that each payment method used may help to address the unique needs of every merchant. That is the reason MDS is not just using its own payment gateway, but it is also using First Data(SM) Global Gateway and "Other" Gateways and IP Connectivity. This makes MDS the most suitable company for any merchant who needs to open a merchant account with a credit card processing company.
With the mobile credit card processing, Merchant Data Systems has made it possible for all the merchants who do mobile businesses to accept all forms of payments. So, with MDS, the merchant only needs to be worried about selling his product and leave the payment process to MDS. Merchant Data Systems uses ROAMpay for Mobile Credit Card Processing. Merchants can use ROAMpay on any smart phone. It is PCI certified so no merchant needs to worry about the security issues. Using ROAMpay is very simple and easy, just connect it to your mobile device and use it like any other credit card machines.
MDS has many ways to facilitate its customers that its counterparts and competitors do not have. Credit card merchant accounts and mobile credit card account are not something impossible for Connecticut Merchants now. In today's age of the fastest growing businesses, it has become very much difficult to survive, let alone making huge profits. It has become very necessary to provide the customer all the facilities, from giving the complete information about the product to making it easily approachable to presenting a wide range of payment options. The mobile SEO and Ecommerce shopping cart setup from MDS makes a lot of things easier than a merchant or a small business owner can even think of. The ability to accept credit cards and debit cards payments is what gives any business flexibility and makes it customer friendly.
The time is coming when Ecommerce and Eshopping will surpass the traditional shopping ways, MDS is completely ready for that time and it has all the tools that can facilitate its customer merchants to run their Ebusiness smoothly and easily. MDS makes it possible for merchants to do business through Ecommerce shopping cart even when they are sleeping.
The systems, solutions, and techniques of Merchant Data Systems are compatible with any type of hardware whether it is traditional or modern. The Merchant Data Systems architecture supports almost all POS equipments as well as softwares. MDS also have the ability to provide communication solutions like wireless communication for remote business locations and small business owners with insufficient facilities and TCP/IP solutions for businesses that have completely established infrastructures.
Merchant Data Systems makes itself trustworthy for all types of merchants by providing a wide range of payment options. If a merchant has a merchant account with MDS, they can accept any type of payment acceptable and convenient for them and their customer. MDS presents its services over a broad scale. They deal with all companies' credit cards like Visa, Master, American Express, AMEX, Discover, Diners Club, and JCB. They can process all the debit cards payments as well as processing electronic checks. They also serve their clients regarding Merchant Cash Advances, Proprietary Gift Card and Loyalty programs as well as merchant-friendly PCI Compliance solutions.
Merchant Data Systems is a leading credit card processing company which is growing very fast all over the US. The company was founded in 1997 with the aim of providing state of the art merchant solutions to all types of businesses. Recently MDS entered a Joint venture with Karma Snack which is an internet marketing company. This joint venture has already started providing benefits to businessmen in the field of Ecommerce.