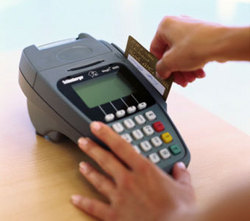 Going direct to a processor as a Retail ISO is not the same as being an Equity Partner.
Miami Beach, FL (PRWEB) December 29, 2010
Merchant Data Systems Completes another Acquisition
"Like others we've acquired before, this particular portfolio consolidation continues to prove the strategy to empower our Partners for Success. We give ISO's what they're looking for, allowing small business owners to take money off the table, reduce their operating costs and focus on building additional equity through strong sales growth," states Drew Freeman, President of Merchant Data Systems. Freeman further states "We have implemented a unique business model with a customized deal structure allowing Partners to determine their cash needs up-front and as well as equity participation in a new Joint Venture. The Merchant Data Systems Equity Empowerment model for merchant credit card processing services is quite appealing to small businesses frustrated by an inability to support their agents and merchants with the same enthusiasm that entrepreneurs demand.
Commenting on the decision to partner with Merchant Data Systems, Joe DiCostanzo, CEO and Co-Founder of Elite Processing Systems states, "As agents, we worked with Merchant Data Systems in the past and they delivered un-paralleled service and support, and importantly, Merchant Data Systems was always there when we needed them. When we were doing very well, we left Merchant Data Systems to go direct, but came back once we realized we had left behind invaluable relationships, available expertise and key strategies that had helped us grow our business. Going direct to a processor as a Retail ISO is not the same as being an Equity Partner. Merchant Data Systems facilitates Operations including two key components that work extremely well for us – participative underwriting and personalized customer service. Now we're happily direct with Merchant Data Systems." Spero Lyons, "COO of Merchant Data Systems explains "We are a digital merchant and mobile credit card processing services shop built to scale the business and empower our Partners' success. We're implementing four new merchant portfolios into our innovative customer-focused software to facilitate excellence in service. Lyons further states, "We value and respect Sales Agents so we are strategically positioned to support our partners' initiatives." Elite Processing Systems, Head of Sales and Co-Founder, Dave Gutman concurs, stating "Available operational expertise to support sales growth including industry-leading, proprietary residual software and their credit card payment gateway capabilities was a major factor in our decision to partner with Merchant Data Systems.
About Merchant Data Systems:
Merchant Data Systems was founded in 1997 on the principals of delivering outstanding service as well as a commitment to innovation and excellence with our merchant and sales partners. Merchant Data Systems is a full-service payment processing company offering a wide array of services to all business types including Credit and Debit Card Processing, Card Processing, Check Products, EBT, Credit Card Processing Machines, Equipment Sales & Leasing, 24/7 Customer Service and Technical Help Desk, Cash Advances, Gift Card, Payroll and merchant-friendly PCI Compliance solutions. Merchant Data Systems can connect to virtually any merchant, anywhere, anytime. As well as actively pursuing Acquisitions and Equity Partnerships through its M&A Partner Program. Merchant Data Systems also offers competitive ISO/MSP re-seller programs. Merchant Data Systems is located in Miami Beach, FL. http://www.merchantdatasystems.com
About Elite Processing Systems:
Elite Processing Systems was founded in 2003 by three partners combining Financial and Sales expertise into an ISO program focused on delivering competitive payment solutions. Elite philosophy includes vertical expertise that allows specific merchant types to enjoy a direct pricing model geared to minimize merchants' processing expenses while increasing merchants' sales. Elite Processing Systems offers an array of products and services including Gift Card and Loyalty programs, Payroll solutions and Cash Advance opportunities. Elite Processing Systems was founded in NY and maintains offices in Staten Island, NY and Miami Beach, FL.
###