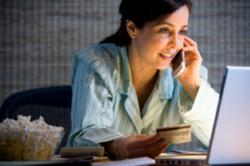 New York City, NY (PRWEB) August 18, 2012
Merchant Data Systems (MDS) and Karma Snack have announced a team up designed to help clients increase sales. This team up will provide traditional and e-commerce stores with business enhancing search engine optimization along with wholesale credit card processing. Karma Snack has recognized Merchant Data Systems for their payment processing system and their excellent customer service. This team up will provide clients, such as department stores, with new sales leads, new products, and improved retention.
Department Stores
MDS brings together a service package that will greatly benefit department store clients. They will assist the department store merchant in generating and growing sales. Their consultative approach will ensure that the client is equipped with both the latest marketing strategies and the latest processing tools. The client services will include innovative technologies in marketing and payment along with the best in customer service.
Merchant Account
Merchant Data Systems has an innovative and competitive program for agents. With their merchant account, the agents will have complete support and selling partnership. Karma Snack's ability to drive customers to the company website adds a new level of sales support to an already excellent sales support package.
Mobile Credit Card Processing
The ability to use mobile phones to process payments gives the customer a new and very convenient way to shop. Supporting a simple payment application on the phone, the store merchant can accept credit cards from a phone. These applications vary from scanning applications to actual card readers that attach to a smartphone. With the versatility of modern smartphones, adding payment support to an agent's phone gives merchants more versatility to accept payments.
Credit Card Processing Companies
It is no longer possible for most merchant companies to run without some form of credit card processing. While the team up between Merchant Data Systems and Search Engine Optimization Company Karma Snack offer support in internet marketing and sales, this includes many traditional processing methods. An online merchant account or shopping cart offers support to payment options for customers that have come to the website. Credit card machines, credit card terminals, and payment gateway methods support customers who physically come to the store.
ECommerce
MDS has added support for eCommerce by offering new tools to drive traffic to websites. Karma Snack specializes in web traffic and they have supported customers with excellent customer service in this area. Adding these features to the sales support of Merchant Data Systems increases the client's website traffic while supporting any payment method the customer chooses.
Merchant Services
Merchant services have expanded with the team up as well. The Merchant Data Systems support included Merchant Cash Advance, Payroll solutions, POS integration, and invoicing solutions. Added to this is the ability to generate sales leads and offer new products. Not only are agents adding sales by adding processing methods, but also they are now generating sales through new leads and increased web traffic. A merchant services account has become a necessity for credit card payment processing in both brick and mortar stores and online stores. The merchant account is simply an agreement between the retailer, a credit card processor, and the bank issuing the credit card. The Merchant Data Systems service package comes with complete service and support, and minimal added fees.
Marketing
Being a marketing service and SEO Company, Karma Snack offers to use modern internet tools to increase conversion rates and generate profitable return on the marketing dollar. Gathering the interest of customers is the key to the growth and profitability of a business. Using the internet, and now mobile traffic, to generate business is part of a growing trend in business support.
Smartphones
Apple and Android smartphones are a large part of the cell phone market. With these phones comes the technology to shop and browse products using mobile devices. Merchant Data Systems is already anticipating this trend with mobile payment support. So as part of their team up, they anticipate giving the merchant the ability to market products with mobile phone advertising. The iPhone and Android browser can easily display ads in similar ways to a computer's web browser.
Conclusion
What the team up means to department stores is increased conversions, sales traffic, and revenue at an economical cost. The department store will be able to expand in terms of marketing as well as processing of payments.