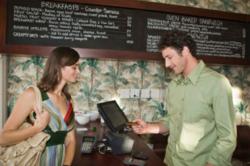 Washington, D.C. (PRWEB) July 19, 2012
District of Columbia merchant services include companies that work in the city only; and then there are those businesses that operate online and whose services can be used throughout the United States. This article is about one such business which is prominent among credit card processing companies—Merchant Data Systems (MDS). District of Columbia merchants will now have access to new services due to a recent team up between MDS and internet marketing company, Karma Snack. Search engine optimization (increasing the ranking of a website in search engine results) will be added to Merchant Data Systems' already long list of services.
This fifteen (and counting) year old, Miami Beach, Florida- based enterprise allows each client to set up a merchant account, which they can then use to purchase machines that enable them to accept credit cards (and debit cards too; see below) of all major lines—Discover, VISA, MasterCard, JVB, American Express, and Diners' Club. They know that companies will turn to them for help because the credit card is the most widely used form of payment in the modern world, and all but a few places with a "cash only" policy will accept them.
The Verifone, with its relatively simple button layout, is one of the credit card machines that account holders may buy at MDS. Hypercom, more sophisticated and complex, is another. And there are three others; individual customers may find that one suits their particular needs better than the rest.
Even now, the average U.S. citizen probably cannot imagine a cell phone being used as a credit card processing instrument. Yet there is no denying that mobile credit card processing is becoming more and more popular as a method of conducting business transactions; and in this area, too, MDS has demonstrated its ingenuity in providing a card-reading device—the ROAMpay—which comes in the shape of a half moon. It can be fitted to any smartphone—iPhone, Blackberry, or Samsung Galaxy—and the operating instructions, which are outlined in the next paragraph, are the same for all of them. An app must be downloaded for the ROAMpay to be used; it can be found on roamdata.com. No additional hardware is required.
Leonard Gilmore serves as our example in this outline of how ROAMpay is used. He is the CEO of a Washington, D.C. corporation that sells textbooks to educational institutes. A customer comes up to him, wishing to purchase six copies of a college algebra textbook. He hands his credit card to Mr. Gilmore, who logs into his credit card merchant account with his secure credentials and selects "Credit sale" from a menu of seven items which then pops up on his screen. He punches in the total amount for the sale and slides the card through the ROAMpay card reader with the stripe facing the front. Instantly all of the customer's card information appears on the phone screen in truncated form. After hitting "Next," Mr. Gilmore may then type in a few notes which only he can access (he may type, say, "six copies of college algebra txt. to be shipped by noon tomorrow"). He also wants to send the buyer an email receipt, so he checks the box by the words "Send receipt" and types in the correct email address. Finally, he clicks "Next" and then "Submit," and within a few seconds he receives information on whether the card was accepted or declined. For reasons of security, the personal information retrieved from the card is not retained once the transaction has been completed.
MDS has relationships with several payment gateways, the most notable of which is First Data Global Gateway, and clients can choose the one that best suits their requirements. The purpose of the gateway is to relay information back and forth, over a secure connection, between the seller and the buyer's bank, check processor, or other payment issuer, and to notify the former of the card's acceptance or decline.
Debit, as well as credit cards, are accepted by MDS client companies, and all the machines described above will work equally well with both. The two kinds are basically similar, with the main difference being that the funds are taken directly out of a debit card owner's checking account, so there is no need to make payment at a later date; and there is no interest payable either. Of course this also gives the holder less time to report to the bank in case of theft, but they are quite convenient.
To obtain an online merchant account, the applicant needs to supply, at a minimum, his full name (optionally, he may also give the name and type of his business), email address, and telephone number. Applications are generally accepted immediately.