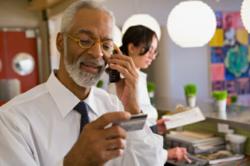 Miami Beach, FL (PRWEB) August 07, 2012
When someone decides to go out for a night on the town to hit all the bars and nightclubs, chances are good that they don't want to carry a lot of cash on them. In the past, taverns and cocktail lounges only dealt in cash, but as credit card processing has become more and more common, people have come to expect that they can go anywhere and have their credit cards accepted. Generally, that's true today, but if there is a business that's just starting up, then they might not have what they need in order to take credit. They can get it with a fair amount of ease. Fortunate for these businesses, Merchant Data Systems is now offering new high quality merchant services for these different types of drinking venues.
What Does a Business Need to Accept Credit Cards?
What a business needs is a company to provide merchant services. Whether they're running restaurants or discotheques, candy stores or ice cream stands, merchant processing is the key they need to open the door. Once they've found a company to host these services for them, that's when it's time to get credit card machines and credit card terminals so that their business can enter the 21st century and keep all of their customers happy by taking payment in any form that a customer can offer.
Which Service Should I Choose?
When a business searching for the right company for merchant services, they should really consider Merchant Data Systems (MDS to its clients and customers). MDS, as a company, has clients covered with whatever they need to become a better business. For example, MDS offers: merchant cash advance, payroll solutions, POS Integration (which stands for point of service), mobile payment, invoicing solutions, and eCommerce, just to name a few of the things that you can get.
What Merchant Data Systems offers isn't just one service to make a business better, but instead a variety of different services to help that business thrive in any and all circumstances. So whether a business just wants to be able to take credit cards at the bar today, or whether they want to be able to give online customers a shopping cart experience that's smooth and easy tomorrow, MDS is definitely a service for you.
What Makes MDS Better?
While other services may offer businesses the same components that MDS does, they often lack the integration that makes MDS the ideal provider for merchant services. For instance, if a business' main concern is mobile credit card processing using an iPhone, then chances are high that they're using HTML 5 as the base software. Not all companies and devices use this, but at MDS, a business can count on the full integration of their hardware and software so that everything they have will serve until they no longer need it anymore.
Many providers can only offer what's available on the market now; they aren't prepared for what's going to happen in the future. Just as credit cards were once new and unusual, so are some of the technology that's just coming out today which is going to be the new norm in the upcoming years. If a business wants to stay competitive with other businesses and convenient for their customers, then they need to be ready to expand when they can.
What's Next?
There are already a number of technologies that are up and coming, and they're more popular every single day. For instance, there are smartphone payments where someone simply waves their smartphone over a sensor and a payment is automatically deducted from their account. There are also wireless credit card readers, like what is seen at a sports game with the mobile vendors, who simply swipe your credit card over a small device and the customer has made their payment. That's what's available right now, in use at conventions and in small businesses all over the country and the world; what will tomorrow's technology bring that businesses will need to be ready for when it comes?
This is why it's so important that businesses have a merchant services company that's always right on the cusp, and who's ready for anything that might come out of the market next. It takes all the worrying off their hands, and allows them to simply run their business and upgrade their equipment as their clientele requires. The rest can be taken care of by Merchant Data Systems, for any business both today and tomorrow.