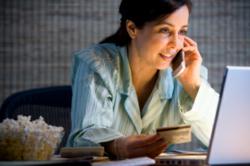 Bismarck, ND (PRWEB) September 26, 2012
Merchant Data Systems knows how important credit card processing is for today's merchants. Credit and debit cards are the most utilized method of payment. As a payment processing company MDS knows how important it is to keep up with current trends and to offer their customers great services. To help target their processing assistance, MDS has teamed up with Karma Snack. This allows MDS to be able to give amenities to their customers, like targeted services. These services will fit precisely with the type of business that the merchants operate.
Businesses, such as, exterminating and disinfecting services, rely on credit card payments to keep their business revenues flowing. Orders are often taken over the telephone and paid for with credit cards, so having a great credit card processing company is essential. Extermination companies often deal with corporate accounts and larger customers. To offer their customers more methods of payment allows them the opportunity to collect their revenues quicker. An extermination company needs the right equipment to be able to run a successful extermination business, and MDS delivers.
ROAM pay is a Payment Card Industry certified way to process payments with a cellular phone. Mobile credit card processing is a great way to allow merchants to process transactions anytime and anywhere. Roam Pay gives a merchant a couple of options, they can use the convenient online virtual processor or they can use their cell phone to process transactions. While this may sound a bit futuristic, the business owner can charge credit cards from their cell phone. This mobile payment option is safe and ensures that no data is left on the phone. Customer must have a data plan on their phone to be able to use this service.
Having an online merchant account is vital for an extermination company. Whether it is to look up frequently asked questions, or to email the company, the website is an important part of today's business. A website is a great place for customers to place orders. Whether it is for specific pest control solutions or exterminations services, customers can add things to their shopping cart and then check out. Having an e-commerce system is vital to increase revenues. Many businesses are finding that their website is getting a great deal more visits than their actual location. It is estimated that most service calls and shopping will be done primarily online by 2014; this allows businesses a chance to ensure their website and invoicing solutions are up to date.
In each business endeavor, there will be periods when the money flow is down. A merchant may find themselves short on payroll or need to purchase a new piece of equipment. Nevertheless, whatever the issue, a merchant cash advance from MDS can assist in the slow times. While most people view MDS as a provider of credit card terminals, they also help their valued merchants with short term cash loans. FAST CASH is an MDS exclusive program that is assisting businesses in times of trouble. Similar to a personal cash advance, these loans are based on income, or in this case, potential future revenues. The money will be paid back out of future processing payments. MDS is so much more than just a provider of credit card machines. They understand how hard it is to be in business in today's economy, and they are here to help.
POS integration is one of the greatest things to happen in the business world. The ability to link computers and registers all together makes running a business much easier. If a manager needs to pull a report from all terminals, they can do so with the click of a button. To be able to integrate a business, one must have the proper equipment. The equipment can be leased or financed from MDS. Using their targeted technology with Karma Snack, they can customize a system that will fit the extermination business.
MDS allows a company to accept credit cards, but what about electronic checks? Merchant services can be extended to include checks. Most businesses don't like dealing with checks, but as a exterminating and disinfecting services company, there is really no choice. A great deal of cooperate giants only pay by check, so the next best thing is electronic processing. The business simply runs a check through a reader and the funds will be debited from their account and put into the merchant's. The ability to accept checks doesn't have to be so risky when there is someone verifying the accounts.
MDS is merchant processing, payroll solutions, and a whole lot more. They offer competitive processing rates and are expanding their market to meet other parts of the country. A business should not settle for just payment processing when they can have all the extras from MDS.