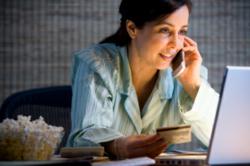 Miami Beach, FL (PRWEB) August 09, 2012
Merchant Data Systems (MDS) is one of the few merchant service companies that are constantly expanding their capabilities to bring more services to their customers. Recently, Merchant Data Systems has intensified their capabilities which will allow them to offer new services to customers in specific targeted industries, like a family clothing store.
It is Merchant Data Systems' desire to help those who have a Family Clothing Store type of business to excel in the business arena. They are continuing to reach out to those industries throughout the United States who is in need of credit card processing assistance. MDS has expanded their online reach capabilities with the experience they have in targeted industries.
What makes Merchant Data Systems so different from other credit card processing companies? First, they can help businesses with commercial loans. All it takes is a company that has been in business and has verifiable revenues for at least 30 days. They are a goal oriented company whose desire is to see their merchants succeed in their business. Besides the ability to offer commercial loans, they also offer merchant cash advances.
Regardless of whether it is a new company or one that is already established, everyone will experience cash flow issues at some point. Using the Fast Cash program, Merchant Data Systems will loan cash to their merchants based on their credit card sales in the previous months. Similar to that of a payday loan, Fast Cash gives the merchant the money they need to cover payroll or other expenses. The money is easily repaid with future credit card sales.
Payroll seems to be a headache for some merchants. If it isn't bad enough to make sure the hours and compensations for their employees are correct, there is also the quarterly taxes and dealing with the state and federal governments. Rather than having this burden on the merchant's shoulders, Merchant Data Systems offers payroll solutions. Working with two large payroll companies, they are able to offer their merchants the help they need. Don't worry about W-2's at the end of the year. All payroll issues are taken care of and the merchant can rest their minds knowing one more thing off their plate. This is just another way Merchant Data Systems stays ahead of their competition in customer service.
Most companies have at least one or two credit card terminals and this gives them the ability to accept credit cards. However; technological advances allow companies to step beyond the credit card terminals to offer their customers more fantastic options. One of the latest technological advances is the use of mobile payment solutions. Merchants are offering their customers a way to pay with their cellular phone. All smartphones that are Android or Apple have the capabilities to use mobile payments. The cell phone user must set up the credit card with their mobile app accounts.
When the customer shops in a clothing store, to pay, they simply swipe their card through a reader attached to the cell phone and the money comes out of their account. This is extremely convenient for those who do not carry cash. Merchant Data Systems can help a merchant to accept these mobile payments and to please their customers by having leaped into the latest and greatest methods in fast payments. Whether a merchant wants to use wireless payments or those using cellphones, they are all complaint with PCI regulations and safe to use.
There are options for those who do not like having traditional credit card machines. POS systems can be integrated to work with all systems in a business. Real-Time POS inventory management systems are now available at Merchant Data Systems. If a business does not have the computer systems needed for the POS integration, MDS has systems and can offer financing. These systems have the readers built into the machines and have the ability to move a line very quickly. Having everything linked together can provide invoicing solutions, convenience, and many other benefits. There is more than just having a merchant services account, there is also having a company that stands behind a business. Payment processing is a big industry because virtually everyone uses plastic rather than cash.
Most retailers, including those for family clothing stores, utilize an eCommerce system. Allowing customers to shop online is a great way to boost revenues. Customers fill their shopping cart online and check out with their fabulous deals. Customers want to know that their merchants processing is being done safely and with all the proper security measures in place. Regardless of the size of the transaction or where the person lives, all of Merchant Data Systems transactions are fully safe. Customers can shop with ease when they know their valuable information is protected.
Merchant Data Systems provides the next generation of merchant processing to all their valued clients. Making sure that their merchants have the tools and the services they need to run their business successfully is what makes them a leader in the industry.