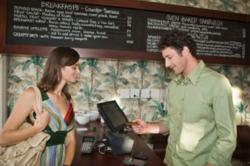 Boise, ID (PRWEB) September 06, 2012
Merchant Data Systems has teamed up with Karma Snack to offer their customers the advantage of target marketing. Fast food restaurants are one of the biggest users of credit card machines and having a merchant processing company that they can believe in is advantageous. By targeting industries, MDS can offer specific service that a fast food eatery would need.
Who uses cash these days? With crime rates and the inconvenience of cash, people opt for electronic payments. Whether it is a check, credit card or mobile payment, MDS can ensure that their merchants are able to process any type of payment. Most people visit a fast food restaurant at least one time per week. Of the people that eat fast food, most people pay for their purchases with a credit card. The ability to process payment and offer the customers more selection in payment options, make the restaurant more likely to get repeat business. Ever been to a store or restaurant that accepts cash only; some people avoid them?
Most companies go looking for credit card processing, but that is all they are looking for. When a merchant signs up with MDS, they are getting the support of an entire team and the additional services that customers have come to like. Running a restaurant can be difficult. There are times when funds are not as they should be, or an unexpected expense may arise. Going to the bank to get a loan can be a large hassle, but MDS can offer their customer merchant cash advances. Toss money troubles away with a cash advance loan. Sometimes it is good to know that there is extra money there when needed. The easy repayment terms of FAST CASH allows a fast food business to have peace of mind during low revenue periods.
Having a credit card terminal and the ability to accept credit cards is just one of the merchant services that MDS offers; they also offer payroll and invoicing solutions. Meeting billing and invoicing needs can be an overwhelming task. Keeping the books straight and payroll is a big job; then there's running the restaurant. Payroll solutions are needed by every company in America and around the globe. MDS offers customers the ability to rent or finance equipment that can handle cash register transactions, POS integration and the ability to pull reports at the touch of a button. The checkout process can be simplified when all the systems are integrated and running smoothly. With a little help from a processing giant like MDS, it is possible for a fast food restaurant to run better than ever.
Nearly everyone that frequents a fast food establishment has a cellular phone. Most cell phones are smartphones that can do almost everything a computer can. The new generation has the advantage of being able to use mobile payments. This app that can be downloaded on any Apple or Android phone uses HTML 5 to read the credit card information that is pre-programed into the phone. The phone is used as a credit card and the reader will transmit the funds from one account to another. This fun feature allows customers to leave their wallet at home and use what is called the "mobile wallet." MDS brings the equipment and allows restaurants the ability to accept mobile payments.
Every company that's anything now days has a website. The websites can function as an online store. Customers can select items and put them in their shopping cart. Whether it is memorabilia from the store or a famous dressing for their salad, online shopping is bigger than ever. To operate any kind of website there must be a good e-commerce system. These transactions are secure and meet all regulations required to ensure customer safety when entering person information online. MDS wants merchant to not only operate their business but to be successful. By having the proper tools, including payment tools, a business can ensure they are meeting the needs of their valued customers.
Merchant Data Systems is credit card terminals and so much more. If a restaurant every takes their business to a fair, or charity event, they can easily accept payments with wireless terminals. No matter where a business is doing business at, they can have the ability to process payment. If there is an internet connection, it is easy to log on and process payments manually, or use a wireless scanner. Being able to take the business on the road and be a major support to the community the restaurant is in is valuable for business. However; being able to accept credit cards from these remote locations is genius. It is just one more thing that MDS can do for its merchants to ensure their success in the fast food industry.
Merchant Data Systems is a global company that is branching out their services to help business owners succeed in their targeted market. Some merchants just come looking for a credit card processing organization, but what they get is so much more. Whether it is a cash advance or payroll solutions, MDS can provide the tools needed to make it in today's poor economy.