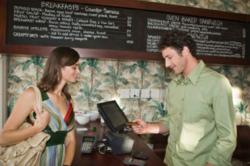 New York City, New York (PRWEB) August 25, 2012
For a while now, Merchant Data Systems has been offering business owners the ability to accept payment and process payment online. They have the ability to help a business owner with the money they need to take care of things such as payroll expenses and leasing or financing new equipment. This start-up capital is available if a company has been in business for around 30 days or so. Merchant Data Systems is responsible for helping the new businesses with programs such as payment processing with credit card and debit processing resources. For a long time these programs have been convenient for many individuals online. Now, with the need for mobile merchant processing, MDS has teamed up with Karma Snack to offer the total package in new technologies that will benefit its customers such as food stores and specialty markets.
Credit card processing using credit card terminals has successfully allowed specialty markets to explode with revenue. A food store can now take mobile payment with the use of credit card terminals that will swipe the card by using an android or smartphone. Home deliveries are now possible. A food store can deliver an order to a household and take payment by use of a credit card processing terminal on a smartphone.
Karma Snack and MDS are working together to assist businesses with the capabilities to offer credit card and debit processing online and wireless. They even work with individuals to provide solutions for marketing issues that may arise. POS Integration is combining hardware with consultants so that they can explain how to use the hardware and answer questions. POS Integration provides companies with installation technicians and programmers that are trained in all aspects of online business and the industry.
Karma Snack gives businesses the ability to reach potential customers with new innovative ideas in marketing and advertising. As a team, MDS and Karma Snack have the ability to offer the total merchant service package to the companies they represent. Payroll solutions, invoicing solutions through websites and mobile services is quickly becoming necessary for most online companies.
With eCommerce solutions, online companies are able to offer sales through shopping carts and accept credit cards through the credit card processing on the website. With the shopping cart option, a potential customer can place an order then pay by credit, debit, PayPal, or eCheck. The money then processes through merchant processing, depositing the funds into the business account.
Mobile payment is very important to a food store or specialty store. For many years, the only way to pay with a credit card at the store was by using credit card machines. Most credit card machines accept credit cards and debit cards, but were only available in stores. With mobile payment options, merchants can take their products to places such as fairs and outside markets. When they make a sale, they are capable of accepting payment using their android operating system or mobile smartphone. This type of mobile revenue will help the business to excel in the open market now available to them.
Merchant services and merchant cash advances assist businesses with the ability to meet their needs for online services with payment processing and commercial loans. Commercial loans are available for individuals that have been in business for a month or so. Merchant services and merchant cash advances will lend businesses cash towards future revenue. MDS and Karma Snack also work with some high risk businesses on a trial basis. This allows high-risk businesses to rebound if they are reliable and follow through with their promises of revenue when it comes. This allows businesses to purchase equipment that they may need to produce future sales. Consultation and solutions will help businesses that were considered high risk to rebound and run a successful streamline online business.
Karma Snack and Merchant Data Systems have created a well-rounded merchant processing service to help individuals create a money making web store. They offer assistance with payroll solutions and invoicing solutions. They offer assistance with marketing and advertising for businesses. Difficulties with accepting payment that used to plague online and small businesses will no longer be an issue. POS inventory, online loans, advertising and marketing, as well as on-call technological experts to answer questions that may arise, this is top quality merchant services.