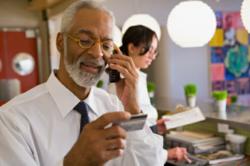 Boise, Idaho (PRWEB) June 22, 2012
Well established merchant services company Merchant Data Systems (MDS) is expanding their range and can now offer a full suite of credit card, payroll, marketing, financial, and e-commerce services to Idaho businesses.
Even the smallest, personally run venture can access the infrastructure needed to accept credit cards easily and economically through MDS. Secure payments can be made through remote wireless networks or through smartphones, as well as online and with traditional credit card machines. MDS can handle payroll processing and inventory control, too. In addition, Merchant Data Systems is now able to offer search engine optimization (SEO) and marketing assistance through its new partnership with Karma Snack.
Mobile SEO and e-commerce shopping cart setup are a big part of what Karma Snack brings to the table for Merchant Data Systems. Idaho businesses will want to be aware of Merchant Data Systems' e-commerce solutions. According to e-commerce experts at Karma Snack, mobile and online purchases will surpass retail purchases by 2014. Whether they're strictly bricks-and-mortar or already online, Idaho businesses can work with MDS to implement shopping cart systems with point-of-sale integration and full mobile capabilities. By providing clients with a fully integrated online presence and bringing their sites straight to the top of the search engine results, MDS can help its Idaho customers leap forward into the next generation of online technology.
Merchant Data Systems allows mobile payments from clients' customers and mobile payment acceptance for clients. HTML5 is the standard platform used by all Apple and Android mobile phones, which hold an 80% share of the smartphone market. Merchant Data Systems' point of sale systems are fully integrated with HTML5 and allow sales by smartphone. MDS also has the technology to allow merchants the ability to accept credit cards, debit cards and, checks through wireless terminals and smartphones. All of these systems are fully secure and comply with PCI regulations.
The possibilities are exciting. Merchant account holders can use wireless payment processing from temporary or remote shops at sporting events, fairs, open markets, job sites, rallies, festivals, and even home sales parties. The ability to process credit card, debit card, and check transactions over wireless networks makes every place with a wireless network into a fully functioning retail space.
Merchant Data Systems is introducing the next generation of payment processing technology to Idaho merchants. Electronic checks, virtual merchants, and real-time point of sale inventory management systems are available through MDS. Idaho businesses need to be ready for the next wave of technology, and MDS is keeping pace.
Credit and debit card services were Merchant Data Systems' first specialty, and MDS continues to offer high technology, up to date and competitively priced credit card and payment processing. MDS is the most innovative and secure option among Idaho credit card processing companies. Online Merchant Account holders and Credit Card merchant account holders can access a full range of payment gateways, including online, on-site, and remote electronic credit, check and cash payments; even mobile credit card processing.
Merchant Data Systems can process credit card, debit card, and check transactions on-line and in real time. With MDS, businesses can accept Visa®, MasterCard®, Discover, American Express®, Diner's Club®, Carte Blanch®, and JCB cards. Merchant Data Systems' payment systems can process and manage gift card and loyalty programs, as well.
Merchant Data Systems can provide payroll services, including employee health, life, and disability insurance plans. Their inventory control systems include point of sale equipment leasing. MDS also offers financial services to Idaho businesses, including merchant cash advances and equipment financing.
Merchant Data Systems can help businesses manage every aspect of their record keeping and cash flow. An account with Merchant Data Systems can reduce or even eliminate the need for in-house accounting.
Rather than depending on a confusing array of specialized packages and companies, it will now be possible for businesses in Idaho to access the financial support services they need online, through a single source. Merchant Data Systems is a well established and trustworthy company that has been in operation since 1997. It has continued to grow and expand its scope because it is dedicated to innovation, responsive to customer feedback, and provides personalized and effective customer service.
Merchant Data Systems is continuously growing, and new technologies and partnerships are always in the works. Sales by smart phone and full e-commerce integration are only the beginning. MDS offers secure, dependable, and up to date Idaho merchant services.